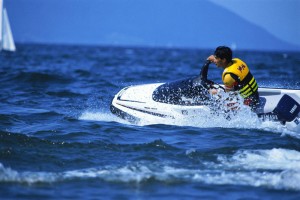 Now that old man winter is surely behind us, we are all ready to get back out on the water again. There's nothing quite like the enjoyment you can get from spending the day fishing or a few peaceful hours of enjoying the lake with friends and family. If your boating dreams are delayed this spring because your beloved vessel has sustained some damage, we understand that you won't trust even minor boat repair work to just anyone. At Anchor Marine Repair, with a team of long-term, experienced employees with a combined 45 years experience of boat repair in Twin Cities & Minneapolis/St Paul, we've got you covered.
Boat Windshield Repair Service Minneapolis/St Paul Area
Think your cracked or otherwise damaged boat windshield is considered to be minor damage?  We don't. At Anchor Marine Repair, we've seen just about every type of boat with every type of damage. While the majority of boat owners consider boat windshield cracks a relatively minor problem, we're here to warn you that damage to your boat windshield can present a dangerous situation very quickly. Cracked or damaged boat windshields are a serious concern and you don't want to get caught on the water with a windshield crack that instantly becomes a completely shattered windshield. Just some of the dangers of driving your boat with a cracked windshield:
Cracked pieces can chip off at moderate speeds and land on an occupant or be stepped on.
Your visibility will be reduced.
Varying weather conditions can cause further damage.
Smaller cracks can become larger if left unrepaired, thus becoming more costly to repair later.
Let the experts at Anchor Marine Repair assess the damage to your boat's windshield and provide you with our top notch boat windshield repair service. Our repair technicians use only the highest quality materials in the industry. If your boat has sustained minimal damage, then most likely, only repairs are needed. For more extensive damages that affect your visibility and safety, a windshield replacement is in order.
Boat Transom Repairs Twin Cities & Minneapolis/St Paul
We have a lot of respect for a boat's transom as they tend to take more abuse than just about any other part of the boat. If your beloved boat is suffering from transom damage, you'll want to make repairs before taking it back out on the lake this season. Our expert Minneapolis transom repair technicians can assess the extent of your transom damage, but be warned, with transom damage you never quite know the extent until you dig deeper. Damage can extend to the transom core, the floor, and the stringers, which is why you'll want to repair your transom as soon as damage is seen. Our experienced transom repair technicians do an expert job on the tedious repair work that is involved in transom repairs. And our expertise allows our technicians to carefully repair or replace your boat's transom and restore it to match your boat's finish.
Twin Cities & Minneapolis/St Paul Boat Repairs
As you can see, from head to toe, Anchor Marine Repair has got your boat repairs covered! Call us today at 763-972-3540 for a free estimate and consultation.