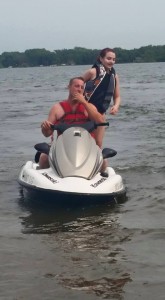 If you own a motor boat, you know the joys of being on the lake, feeling the wind and the spray of the water.  And if you own a boat, you also know that it requires a healthy measure of up-keep, maintenance, attention, and care.  To sustain your enjoyment, you must put the time and effort into keeping it clean and in good repair.  And if you live in or near the Minneapolis/St Paul area, Anchor Marine Repair should be your choice for help with the repairs and upgrades you want for your boat.
Windshield Repair Vs. Windshield Replacement
Anchor Marine Repair is a full-service boat repair shop.  As such, it can help you not only fix problems that are outside of your own level of expertise, it can help you with an entire makeover for your boat.  One aspect of boat repair that may be considered by many to be a simple repair, but definitely not an easy repair, involves your boat's windshield.  When a windshield is chipped or cracked or damaged in other ways, the solution is simple: either repair or replace the windshield.  But simple and easy are not necessarily the same things.
Because the windshield protects you from excessive wind and bugs and (hopefully not) the occasional low-flying bird, especially when you are driving your boat at some speed, it is vitally important for your windshield to be in solid shape.  If the integrity of your windshield is compromised, so too could be your safety, and the safety of your passengers.
If your windshield has a ding, you likely know from owning a car that this small pinpoint can eventually spider out and become a full-on crack that gradually makes its way across the entire surface of the glass.  Anchor Marine is capable of fixing the ding before it spreads and replacing the entire windshield if the damage compromises the structure of the windshield.  Anchor Marine Repair can help you decide whether your windshield can be repaired or needs to be replaced.
Keep Your Boat Ready For The Water
Now, it is also true that a boat's windshield can remain strong and intact, but still be in need of attention that only Anchor Marine can provide.  Because boats spend their lifetimes out among the elements, your windshield can begin to fade and become discolored over time.  If you can't see through your windshield without clarity, and normal window cleaner isn't cutting through the grime, you will very likely need professional help.  Again, Anchor Marine should be your choice.  The techniques we use to clean through even the toughest surface dirt is state-of-the-art and will breathe new life into your windshield.
Anchor Marine specializes in boats.  Boats are all we work on, hence our name.  And we know our stuff!  Call our team at 763-972-3540 to get your boat in for routine maintenance, windshield repair or replacement.