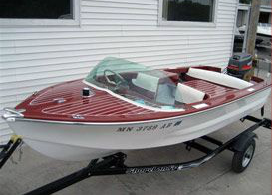 There are highs and lows when it comes to being a boat owner. Anytime that your boat gets damaged would be considered a low. Here at Anchor Marine Repair, we aim to help boat owners through the low times so that they can get back to enjoying the highs! If your boat windshield got damaged on the way to the lake by flying debris on a road in MN, our team can help in an instant.
Professional Boat Windshield Repair Team MN
By choosing to partner with Anchor Marine Repair, you not only get access to very affordable repairs, but also the #1 boat repair shop in Minneapolis completes the work. With over 45 years of combined experience, boat windshield repair is a project that our repair professionals can tackle with ease. We repair damaged boat windshields and work with your insurance company to ensure that you are treated fairly when it comes to your true out of pocket cost. Many boat repair shops shy away from working with insurance companies. Our customers are our top priority, so we are happy to serve as an advocate for you when it comes to your insurance company. Concerned that you may not be able to get your boat over to our shop for repairs? No need to worry as we offer pick up and delivery service of the Minneapolis or St. Paul area.
Windshield Repair and Replacement
Riding around one of Minnesota's lakes on your boat with a damaged windshield is not a good idea. In the same way that your car windshield provides protection, so does your boat windshield. Pushing your boat to high speeds with a faulty windshield may not provide you the protection you need from the high winds, bugs and potential debris that you may run into. If your boat windshield needs repairs, we've got you covered. If you need a full windshield replacement, our team can handle this task as well, and we are happy to work with your MN insurance company.
When it comes to boat damage in MN, our team at Anchor Marine Repair should be the first shop that you call when you are feeling low. If you have a damaged windshield, let our team provide you with a free estimate on your repair or replacement needs. While your boat is with our team, we'd be happy to address any other potential boat damage repairs that you may need. To learn more, give our crew a call today at (763) 972-3540 or email service@anchormarinerepair.com.