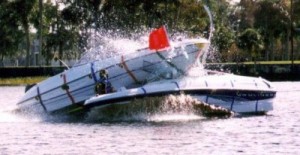 When you are out on the open water, it's hard to wrap your mind around how important a windshield is on your boat. Well, at least until you have damage on it. It's sort of like back pain. You don't realize just how much you utilize your back until it begins to hurt! To be clear, you need your windshield to be fixed as much as you need your back pain to heal. At Anchor Marine Repair, we perform boat windshield repairs in a timely manner and can safely get your boat back on the water right as the temperature starts to warm up! Serving MN, IA, SD, ND, and WI, we've got all you need to get your boat ready for the spring!
The Danger of Windshield Damage
Still not understanding the big deal? Let's put it in a simple scenario. Say you are cruising along the lake and a rock hits your windshield. So you think about it and decide to press on and just stand up above the windshield, no big deal right? So, you hit the throttle but all the water comes splashing back at you. You sit back down but your windshield has now cracked even further and you have a major reduction of visibility out on the lake. Bummer! So you stand again, it's not ideal, but it's still okay. You hit that throttle again and then all of sudden, one of your passengers starts screaming! Oh no, part of the damaged material just chipped off and went directly into your passenger's eye. Projectile glass is never good – whether it's flying or it just falls onto the boat. No one wants to step on it, sit on it, or get it stuck in their eye. There are so many reasons to get your windshield repaired but for every boater, the number one reason is safety and that should never be overlooked.
Windshield Repairs
At Anchor Marine Repair, our reliable technicians are skilled and use the highest quality products and materials in the industry. When you get your boat back, you'll be able to see with perfect vision out of your new windshield. Anchor Marine Repair is a full service repair shop that can repair any type of boat windshield. From curved to flat, we will help to get your boat back into full operating order.
If you are searching for an experienced technician to repair your boat windshield in MN, IA, SD, ND, or WI, look no further than Anchor Marine Repair. For more information, give us a call today at 763-972-3540 or send us an email at service@anchormarinerepair.com.