Boat Windshield Repair Technicians Minnesota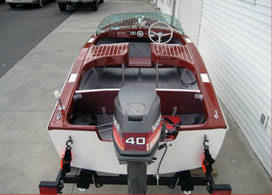 Ignoring a broken or damaged windshield on your boat is very dangerous. A windshield provides your visibility of what's ahead and protection from wind, bugs and water. Anchor Marine Repair's Expert Windshield Repair Technicians complete the highest quality repairs in the Minneapolis, MN area. We can repair or replace flat or curved boat windshields, no matter what they are made of or how they were damaged. Our boat repair mechanics specialize in professional grade boat repair services and restorations.
Hazards Of A Damaged Or Broken Boat Windshield:
Majorly reduces visibility while operating the boat
Damaged pieces can break off and become a projectile or hazard to sit or step on sharp objects
A smaller chipped or cracked windshield will become larger and more costly to repair or replace
Reduces the appearance and value of your boat
Boat Windshield Repair Or Replacement
It is important that your damaged windshield be taken care of by an experienced boat windshield repair technician. Every component of the boat's windshield is important, including the brackets, frame and edging. All play a role in the performance and safety and must be installed by an expert windshield repair technician who specializes in boats.
Windshield Repair is generally appropriate when the damage is minimal and the frame is intact. A severely damaged windshield requires a complete windshield replacement. Our windshield repair technicians can also repair damages to other glass on your boat, such as the center or side console. We can repair or replace tinted, clear, custom made, plexiglass and tempered glass.
Professional Boat Repair Services
The team at Anchor Marine Repair loves boats and everything about them. We have a combined 45 years of experience and a state-of-the-art facility where your boat will be treated the way You Want it to be treated. We specialize in boats and have the hands-on experience to quickly identify problems and find solutions.
Our professional team is comprised of Boat Repair Mechanics, Windshield Repair Technicians and Boat Painting Experts – all here to restore your prized boat back to factory condition or customized to your specifications. We offer pick up and delivery services within 250 miles of Minneapolis, MN and have very competitive prices.
Call Anchor Marine Repair today for a Free Estimate and Expert Consultation at 763-972-3540