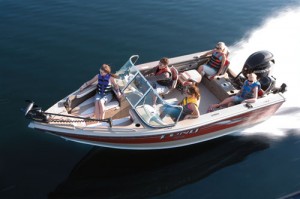 Has the windshield on your boat seen better days? Are you fed up with looking through those scratches and around cracks? Not only are those cracks and scratches an eye sore, but they also pose a huge threat to you, your passengers and your boat.
Boat Windshield Materials
There are two mainly used plastic windshield materials which include acrylics and polycarbonates (more commonly known as Plexiglas and Lexan). Although both work well, Plexiglas is a little more expensive but stronger than Lexan.
Both Plexiglas and Lexan are sold at different varieties of thickness, color and sizes, so every customer has the ability to choose which material and size is right for their boat.
Your Boat's Windshield Is Important
One of the most fundamental aspects of your boat is your windshield. Now, we know it looks just like a simple piece of glass, but it is so much more than that. Just like the windshield on the vehicle of your car, your boat windshield holds many purposes to keep you safe and out of harm's way.
The Hazards of Small Boat Windshield Damages
If damage to your boat's windshield is left unattended, many hazards can appear. Even the smallest crack or scratch can turn into a big mess very quickly. For example, let's say you're driving your speed boat around the lake for a quick joy ride even though your windshield is damaged. At high speeds, your broken boat windshield will start to shake and rattle, causing little  particles to fly off, which could hit you or your passengers.
A boat's windshield can also provide protection in conditions of driving rain, and can be an integral part of the structure in boats with a cabin, adding to the overall strength of the boat. If your windshield is damage, it can obstruct your view which could lead to an accident.
Broken Boat Windshield? Let The Experts At Anchor Marine Repair Help
At Anchor Marine Repair, all of our boat repair technicians have the right skills and knowledge to get your windshield repaired in a timely matter so you can get back out on the lake. Because we are experienced in repairs, we are your one stop shop for all of your boat repair needs. We only specialize in boat repair and refurbishing techniques which makes us the best in town.
We also have the ability to serve all customers within 250 miles of Minneapolis MN, so if you're boat is at the cabin in Wisconsin, we will be more than happy to pick it up for you.
If You have any questions about our boat windshield repair services, call Anchor Marine Repair today at 763-972-3540.