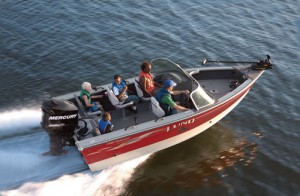 Although the windshield on your boat can be commonly overlooked, it is one of the most important parts of your boat. A boat windshield acts as a protective feature that helps keep you safe and out of harm's way. If the windshield on your boat has been damaged, it should not be ignored, as it can cause damage to both the structure of your boat and can severely hurt you or your passengers.
How Your Boat's Windshield Can Get Damaged
There are various ways your boat's windshield can become damaged including:
Boat collisions causing damage to your windshield
A rock or other materials hitting your windshield
Friends or family accidentally cracking or damaging your windshield
Vandalism when your boat is parked overnight
Damage To The Windshield Of Your Boat Is A Safety Risk
It is important to repair any damage done to your windshield of your boat. Just like your car windshield, you boat's windshield protects you from the natural elements as well as incoming rocks and debris that can be whizzing past you while you are driving at high speeds.
Failure to repair any damage–minor or major done to the windshield of your boat can result in:
Other structural damage linked to your windshield.
Any cracks or glass shards can turn into flying projectiles or a loose object to step or sit on.
Any cracks or damage can cause leaks. Even the smallest of leaks can cause extreme water damage to your boat.
More costly damage for you and your boat in the future.
Anchor Marine Repair: #1 In Boat Repair Services St. Paul MN
At Anchor Marine Repair, we are not just any old repair shop and do not simply do boat windshield repairs on the side. We specialize in every aspect of boat windshield repair, and are equipped with the highest quality of materials and highly trained boat repair technicians so you never have to worry if your boat is in good hands.
If you are in need of a replacement windshield, but your boat is parked at your cabin in Wisconsin or far away from the cities, we offer towing and pick-up services MN.
If you have any questions or would like to schedule a boat windshield repair or any other boat repair services, call Anchor Marine Repair today at 763-972-3540.