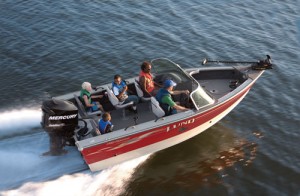 It is certainly not the safest option, but most automobile drivers can operate their vehicle with a windshield chip or small crack for a short period of time without any serious consequences. A boat's windshield however is subjected to a higher amount of pressure, and breakage could be dangerous to you or your passengers. Postponing boat windshield damage can put you at risk of spontaneous window bursting. Don't risk your safety! Call the repair technicians at Anchor Marine Repair in Delano, MN for repair or a replacement of your boat's windshield right away.
To Repair Or replace… That Is The Question
If your windshield damage is minimal and the windshield frame is in good condition, it may not need to be replaced. Our windshield repair technicians can perform a repair that restores the structural integrity of the windshield without removing the glass. However, if the windshield damage is more extensive, it may require a windshield replacement. Follow these rules of thumb to determine if your windshield can be repaired, rather than replaced:
● Crack is shorter than a dollar bill's length
● Crack does not touch the edge of the windshield
● Chip is not deeper than half of the windshield's depth
● Glass is laminated, rather than tempered
Dangers Of Putting Off Repair/Replacement
Even minor chips or cracks can easily spread when exposed to the pressures of cruising at higher speeds. As the damage becomes larger, the chance that your windshield could suddenly break or burst increases. When a boat windshield falls apart, each piece of glass becomes a projectile that could harm you or anyone else in or near your boat. For these reasons and more, it's important to identify and repair any boat damage as soon as it appears.
Windshield Repair For Boat Restoration
For vintage boat collectors, restoring a boat can be a passion project. If you're in the process of restoring an older boat, it's easy to overlook the windshield. But repairing the windshield is easy and affordable with professional windshield replacement from Anchor Marine Repair.
If your boat has suffered any kind of windshield damage, consider the expert boat repair specialists at Anchor Marine. We offer full-service boat repairs to the state of Minnesota and surrounding areas. With our help nothing will keep you off the water! Whether the damage has happened to a flat or curved windshield, our boat repair shop can repair most types of boat windshield damage. If you're in search of a company you can trust to repair your boat's windshield, call the professional boat repair technicians at Anchor Marine Repair (763) 972-3540. Don't let anything stand in your way, be on the lake today!