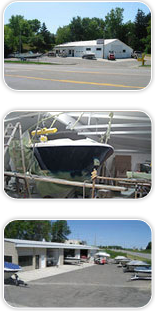 Anchor Marine Repair is justly proud of its two building facility, located near Lake Minnetonka, and offering over 10,000 square feet of working space. Our two spray booths (42' and 48') give you the fastest turnaround time available, and allow us to get your boat back on the water in no time at all.
Our state-of-the-art facilities are large enough to accommodate boats up to 38' in length. Our skilled technicians use only the finest tools, equipment and repair techniques. The working relationships we have carefully cultivated with our parts and product suppliers insure fast delivery of everything we need to repair or restore your boat properly.
If you need boat repair, renovation or refurbishing and want to protect the value of your investment, Anchor Marine Repair has everything you need. Call us today! Our estimates and consultations are always FREE and we offer pick-up from your dock, home or marina.