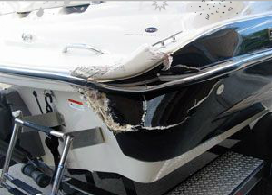 Living in Minnesota comes with plenty of perks – the laid back atmosphere and the luxury of enjoying the thousands of crystal blue lakes, rivers, and streams our state is famous for. And with 867,446 registered boats in the state of Minnesota, it's no surprise that even the most trained boaters have accidents from time to time.
Once damage has occurred, it is imperative to quickly get the damage repaired to seal out moisture and protect your boat or watercraft from further damage.
Any significant damage to the hull may cause the boat to flood with water or produce stress cracks which may develop into hull failure at a later time. After any significant collision or hard grounding, the boat should be hauled out of the water and the hull inspected for cracks, fractures of joints, or any other damage. After a collision, you may be able to see some obvious damage. But, fiberglass flexes quite a bit, so it will rebound after an impact, often hiding broken out tabbing and other things.
Collision Damage Boat Repair
If you have made a financial investment in a boat, then you know there are few things scarier than damage to their prized watercraft. It's your worst nightmare. A fitting may have failed; perhaps you struck a deadhead; maybe you stuffed a wave, or chopped the throttles to avoid a collision. It does need to be the end of your boat.
If your boat has any type of impact or structural damage, fractures, soft or rotted floors, transoms and/or stringers, our expert technicians at Anchor Marine are here to help with quality boat collision repair.
Services We Provide
Boat Repair
Boat Renovations
Fiberglass Boat Repairs
Aluminum Boat Repairs
Pontoon Repair
Yacht Repair
Transom Replacement
Cosmetic or Structural Boat Damage
Boat Trailer Repair
Just give us a call at 763-972-3540 to reach highly trained technicians able to handle minor maintenance or major aluminum, fiberglass, pontoon, or yacht boat repairs.  Whether your watercraft has suffered collision damage or structural boat damage from storms, we will make her sea worthy again.