Fiberglass Boat Repair, Restoration & Refinishing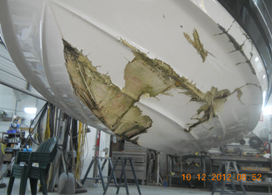 At Anchor Marine, we understand your boat is very important to you. Plus, there's just something about the enjoyment and pride we get from having a beautiful boat we can be proud of. It's one of life's small pleasures. It also represents a huge investment. So, whether you own a new Ranger bass fishing boat or a Lund pontoon, it just makes sense to do everything we can to properly maintain and protect it from the elements. These elements pay havoc on canvas, vinyl, carpet, plastic, chrome, Fiberglass, Gel-coat and of course, wood.
Think about it…. Every day, most boats endure a cycle of temperature and humidity changes, from cool and damp nights to hot, dry bright sun. This expansion and contraction, wet-dry daily cycling, occurring even on days with the best boating weather, takes a toll on gel-coat and wood bright work. Add pollution, dirt, rodents, bird droppings, the occasional raging hailstorm and who knows what else, and your expensive, prized possession is under siege.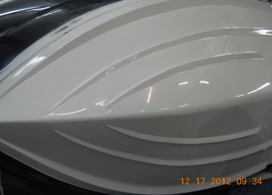 Boats lose their value faster than any other large purchase you'll own. Surprisingly, this is NOT due to failure of the boat manufacturers or the marine industry in general. It's because boat owners do not properly care for their investment.  Not only will it look ugly, it will greatly reduce its resale value. It won't be worth much to you or anyone else.
Fiberglass Storm & Collision Damage Boat Repair
Whether your boat has been storm damaged, involved in an accident, or its merely suffering the ravages of age, Anchor Marine Repair can help. From structural repair to upholstery replacement, we tackle almost any job imaginable!  We have done jobs that range from small cosmetic repairs, to major yacht restorations.  Our state of the art facilities, along with our 45 years of boat repair, renovation and refurbishing experience assures that it will be done right.
With the capability of accommodating boats up to 38' in length, we specialize in:
Structural boat damage
Wood floor refinishing
Transom repair & replacement
Metal Flake & Poly Flake Repair
Top replacement
New upholstery
Leaking rivet repair
Boat trailer repair
With a passion for boats and a love for repairing and refurbishing them, we specialize in fiberglass, aluminum or metal flake boat repair and finishing and matching your boats gelcoat finish. From boat painting to new floors and transoms, we can get your boat hull looking like it just rolled off the showroom floor… or BETTER!
Our estimates and consultations are always FREE! AND we would be happy to pick up and deliver. To restore your fiberglass boat to its former glory, call the boat repair, renovation and refurbishing experts at Anchor Marine Repair today at 763-972-3540.