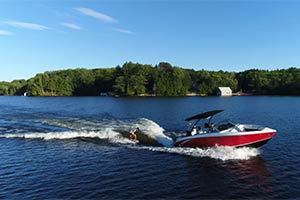 Anchor Marine Repair offers the local ski boat collision repair fast! We can perform high-quality repairs to your jet ski boat quickly because our team has the training and experience required to repair virtually all watercraft. We also offer a convenient pick-up and drop-off service within two hundred fifty miles of our shop's Twin Cities, MN location. If you have discovered that your ski boat has suffered damage from a collision, Anchor Marine Repair should be your first and only choice to complete the work. We will get you back on the water as soon as possible. After all…boating season in Minnesota is not very long at all as it is.
Quickly Repair your Ski Boat after a Collision
Many ski boat owners might assume that, because of the high degree of fun that can be had on a ski boat, they must also be easy for the owner to repair. However, the truth is actually quite different. Ski boats are fun because their design and engineering is complex enough to allow them to do things on the water safely that other boats cannot. Owners who discover damage to their ski boats and try to fix them themselves almost always learn that the job is outside of their range of ability. Fortunately, there is a local service like Anchor Marine Repair to return their ski boats to their pre-collision status.
People who enjoy ski boats typically love their combination of maneuverability, speed, agility, and quickness. Those qualities are dynamic ingredients for a ton of fun on the lake. They also have a potential downside, in that they can incur damage to the body, frame, or engine from collisions with unseen obstacles in the water, other ski boats, and even with stationary obstacles like the dock. Even minor damage to a fiberglass body can affect your ski boat's performance, and fixing fiberglass requires not only the tools of the trade, but the specific experience that our staff has gained over years of training.
Anchor Marine Repair can service every brand of ski boat, including:
Ski Nautique
Moomba
Supra
Mastercraft
MN Ski Boat Repair
People who own ski boats tend to love them because of the fun they can have while riding them. The fun you have on your ski boat could be diminished by minor damage, but regardless of the severity of the damage to your ski boat, Anchor Marine Repair can get it back to you quickly so that you can enjoy the warmer months on the water. with a quick turn-around time. Call Anchor Marine Repair at 763-972-3540 and we will be happy to schedule a time to repair yor ski boat.