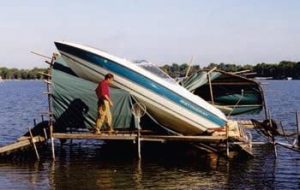 If you own a boat of any kind, you have probably had a collision with an object that caused you to wonder how bad the damage is. If you are lucky, the noise of the impact proved to be far worse than any actual damage. However, there are also those collisions that not only sound bad, but they do damage to your boat. When your boat has sustained damage that requires repair, Anchor Marine Repair is your trusted Marine Accident Repair Shop in MN. We understand all you want is your boat fixed and back in the water as fast as possible and we can accommodate you.
Boat Collision Repair in MN
Our staff can complete all types of repairs to all kinds of boats. We have the experience, training, knowledge, and equipment to identify the most effective type of repairs and to then complete those repairs to return your boat to its pre-accident condition. There are few things that are more relaxing than going out on the lake in your boat and spending some time on the water. Minnesota culture is built around the idea of spending time on a lake. This relaxation and rejuvenation are at risk the moment your boat strikes something in the water that can cause damage. In addition to being able to repair fiberglass boats and aluminum boats, as well as boats made from other materials, Anchor Marine Repair is also very good at repairing damaged peace of mind.
From your tiny, beloved rowboat that's been your fishing vessel since you were a kid to your high-performance speed boat, Anchor Marine Repair understands the importance that your watercraft plays in your life. We can mend gashes that occur in fiberglass boats, and we can pull dents from aluminum boats. We can restore your boat to pristine condition if you are interested in a more involved restoration project. A marine accident is often considered by boat owners to be a sign from above that it is time to finally restore their boats to like-new condition. Anchor Marine Repair is capable of breathing new life into what had become an old, beaten-up boat.
#1 Marine Accident Repair Shop in MN
We take boat repair seriously because we take boating safety seriously. When you are out on the water, searching for relaxation and rejuvenation, the only way to find those things is to begin with the confidence that your boat is in top condition. If your boat has sustained damage from a marine accident, Anchor Marine Repair will complete the repairs so that you can get it back out on the water quickly. Call us at 763-972-3540 with any questions.