Yacht Repair and Restoration
Our specialty is boat repair. We have the ability to perform even the most rigorous repairs and restorations.  Our services include:
Topsides painting & refinishing services
Hull maintenance, bottom anti-fouling painting
Gel coat restoration, paint and gel coat touch-ups and repairs
Fiberglass and Aluminum repair and alterations
Teak deck refitting and carpentry services
Wood floor repair and replacement
Interior Design and Decorating
Yacht Maintenance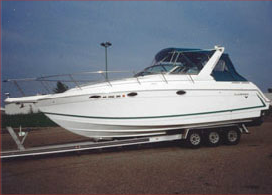 If you have owned a yacht for some time, it might be in need of some repairs, or maybe you want to spruce things up a bit with some upgrades; especially when you are spending quite a bit of time on the water.
As fellow boaters, we know that your boat is a big investment. In an age when boat prices can range from that of a used car to that of a large home, it's pretty important to keep it in tip top shape. Not just cosmetic dings and scratches, but also major repairs of structural damage to hull and decks.
At Anchor Marine Repair, we repair all types, sizes, and styles of boats, including yachts. From minor cosmetic repairs to full structural and collision repairs, to complete remodels, we tackle almost any job imaginable! With over 45 years of combined experience, our expert technicians can keep your boat or yacht operating safe and looking great on the water.
Call us at for a free estimates and consultation at 763-972-3540.