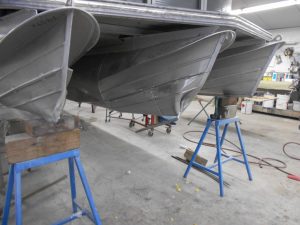 Pontoon Boats have come a long way in recent years. With all the new developments in Pontoon technology, they can do more than just a fair job of keeping up with the water toys.
We have a combined 45 years of exceptional quality pontoon repair services. Whether damaged from a impact or collision, a bad storm or fallen tree, or just in need of some refurbishing, Anchor Marine can help. We have the right solution for any of your pontoon repair and refurbishing needs including: structural damage, wood floor refinishing, pontoon repair or replacement, top replacement, new upholstery, trailer repair and much more. Our pontoon boat repair services are unmatched.
Pontoon Collision Damage Repair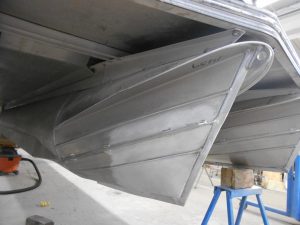 You may be surprised to learn how many people are letting go of their "go fast" boats and buying the more performance oriented Pontoon models that are available on the market now. Possibly because of this, the frequency of pontoon impact or collision damage has increased slightly. At Anchor Marine, we have a proven record with the insurance companies earned by our ability to restore a pontoon to better than new condition.
Pontoon Restoration Services
Pontoons' hallmark feature is comfort on the water with living room-like couches, lounges and swivel seats, and yes, a kitchen sink if you want one, that beckon boaters to sit back, put up their feet and enjoy the breeze, the sunset or whatever they want on the water. Pontoons can offer a slow and lazy ride just the 2 of you or you can throw great parties on board with your family and friends. Buddies, dogs, kids and grandparents, can all find plenty of room to enjoy the water and stretch out in a pontoon boat. When equipped with higher horsepower, they offer relaxation and speed with power for skiing and tubing, too.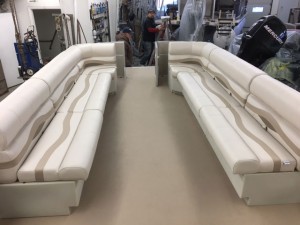 If you have owned your pontoon for some time, it may be in need of some repairs, or maybe the carpeting is looking somewhat shabby or otherwise worn out. Maybe you want to spruce things a bit with some upgrades; especially when you are spending quite a bit of time on the water. Anchor Marine specializes in more than just exterior repairs. Our in house team has years of experience renovating boats including pontoon carpet replacement, new seat covers, padding and more. If your pontoon is is good working condition, contact us for a quote. We can do it all; from new padding and covers for a more comfortable ride, all the way to a full overhaul that would make you think your boat just came off the showroom floor.
Is your pontoon boat in need of a rebuild or restoration to improve its appearance? With quality replacement seats, furniture, and accessories, or maybe even a new Bimini top or canopies you may be well on your way to restoring your pontoon to maybe a better than new condition.
The best call you can make is the one made to Anchor Marine Repair. We have over 45 years of combined experience providing repair, renovation and refurbishing of all types, sizes, and styles of boats, including pontoons.  Call us at for free estimates and consultations at 763-972-3540.