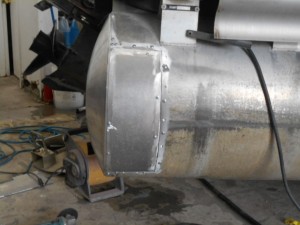 Pontoon boats have become something of an institution among boaters and families. They're perfect for a wide range of activities, and they can host a large number of people, which makes them perfect for large get-together s or calm days on the water. One of the many benefits of owning a pontoon boat is that they're not as easily damaged as other types of boats, and they're relatively simple to fix – if you have a boat repair shop that knows what it's doing. At Anchor Marine Repair, we're experts in pontoon boat repairs and restorations in Minnesota, with expertise in everything from fixing dents and installing new carpets to repairing intense storm damage.
Aluminum Boat Repairs
One of the great things about repairing pontoon boats is that they're an aluminum boat, which means they're much less susceptible to wear and tear than other types of boats with gel coatings. That means that repairs are often straightforward and less frequent than other types of boats. That said, aluminum boats can sustain a lot of damage over time, in an accident, or in a bad storm. In the event that your pontoon boat sustains damage to its aluminum, we can easily and quickly get it fixed.
Pontoon Boat Storm Damage Repairs
Minnesota is notorious for its storms and even more notorious for the damage these storms cause to homes, vehicles, and businesses. But what isn't always talked about are storm-damaged boats. At Anchor Marine Repair, as a Minnesota boat repair company, we understand that storm damaged boats are a fact of life for many boaters in the state. If you're in need of pontoon boat storm damage repairs, let us know, and we can help get your boat in shape for your next adventure on the water.
Pontoon Restorations and Upgrades
If your boat is still in good working condition and you're just in need of restorations, or if you'd like to upgrade your pontoon boat while it's in for repairs, just let us know! We offer a range of pontoon boat restoration services, including replacing carpeting, seating and seat covers, padding, and adding features like sinks and tables.
Minnesota Pontoon Repair Shop
Whatever work needs to be done to get your boat running and looking the way you want, we're the team for you – wherever you are! Located in Delano, MN, we know that not everyone can get their boats to our shop – and not everyone has the time to take their boats in for repairs or restorations. That's why we provide a service that sets us apart from other boat repair shops; we'll come to you, pick up your boat, bring it to our shop for repairs, and deliver it back to you when we're finished. Wondering if we can travel all the way to you? We travel anywhere! Give us a call at 763-972-3540, or email us at service@anchormarinerepair.com to find out if our Minnesota pontoon boat repair specialists can help you!