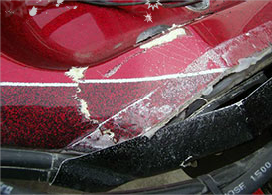 Your boat is made in layers. The outside layer is clear gelcoat. Under the clear gelcoat is the sparkly metal flake that is also called poly flake. There is only so much gelcoat on any boat. If you don't maintain it regularly, you are going to have an oxidation problem sooner or later.
Even though the damage to your fiberglass boat may appear simple on the surface, quite often the damage is much more serious in nature.
On metal flake boats especially, you can see when a problem is occurring when you begin to see the metal flake turning silver. A metal flake is simply that, a piece of metal that is painted. If it becomes oxidized, you have lost the bright paint job on the flakes of metal.
There's no other paint job that will restore the gloss and original beauty of your boat like metal flake. But it also is one of the toughest paint jobs to repair.
Cosmetic and Structural Damage
Maybe you've scratched the metal flake on your new boat, or have a few battle scars on the one you've had for years. Not a problem! At Anchor Marine, we are professionals at fiberglass repair. Our technicians take pride in all of their work, but metal flake repair is where we shine!
From simple cosmetic blemishes to major structural damage, to complicated restoration, the Anchor Marine team is professionally trained and experiences to provide you with the highest quality of workmanship at an affordable price. Together we offer our customers a combined 45 years of boat repair, renovation and refurbishing experience.
As fellow boaters, we know that your boat is a big investment and understand how important it is to you to keep it in "shipshape". Anchor Marine will get your boat patched, repaired, or restored to full working order and natural beauty, and in the water as quickly as possible!
To restore your beloved boat to its former glory, call the boat repair, renovation and refurbishing experts at Anchor Marine Repair today at 763-972-3540.