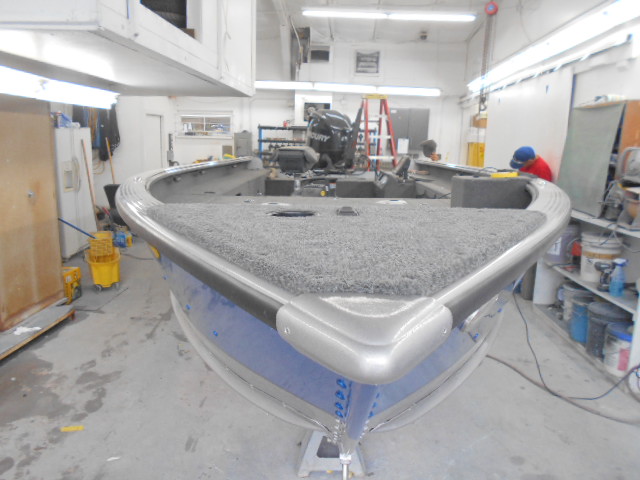 Even though it may not be fishing season right at this moment, you're likely staring at your computer screen dreaming about the fun that will be had when the temps warm up and you're able to head out on the beautiful, open Minnesota waters! If we're describing you, it's important that you have a fishing boat damage repair company you can call on if and when you need one! At Anchor Marine Repair, we'll be more than happy to take a look at your fishing boat during the off-season to get you fixed up and ready to hit the water the second that the temperatures warm up a bit. We've been helping local fishermen keep their boats in tip top shape for decades and thanks to our world-class facilities, we're able to perform repairs year-round, during rain, sleet or snow!
Top Quality Fishing Boat Damage Repair Facility
At Anchor Marine Repair, we like to think that one of our best qualities revolves around the fact that we have a state of the art facility which features more than 10,000 square feet of workspace. This allows us to handle boats up to 38 feet in length! We're not sure of the size of your prized fishing boat, but we're fairly confident that we can handle repairing it inside our facility.
Free Pick and Delivery Within Wide Radius of Minneapolis St. Paul Area
Are you concerned that your fishing boat needs to be repaired, but you don't have a good way to get it to our facility in Delano? If so, we'll happily come pick up your boat and deliver it when it's repaired.
Common Fishing Boat Damage Repair Services We Perform
Below are a few of the more common boat damage repair services that we provide at Anchor Marine Repair:
New upholstery
Wood floor refinishing
Boat top replacement
Structural boat damage repair
Boat trailer repair
Leaking rivet repair
Now is the Time to Bring Your Fishing Boat in For Repair
There is no better time to bring in your fishing boat for repair than right now. With the colder temperatures, we'll be able to quickly jump on your repair job and get your boat back to you in no time at all. If you wait until the weather warms up, you'll be at the back of the line with all the other avid fishermen in the Twin Cities area! Give us a call today at 763-972-3540 to schedule a repair.