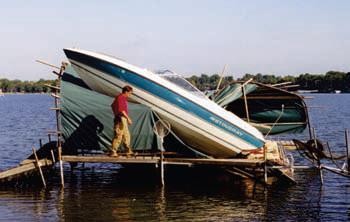 Looking for the right partner to handle your marine accident repairs? Well, if you're looking to partner with a marine accident repair facility in Minnesota who is #1 in storm and collision damage repair, look no further than our dedicated team at Anchor Marine Repair. Whether you're dealing with minor repairs or a massive issue due to the accident, you can count on us to get your repairs handled efficiently and most importantly, in a timely manner.
At Anchor Marine Repair, our success over the years has been due to the elite marine accident repair team that we've built. After all, these marine accident repair experts are the ones working directly on your boat, so it should come as no surprise that they are our prized possessions at Anchor Marine Repair. When it comes to experience, our team comes with more than 45 years of combined marine accident repair experience. Each of our marine accident repair specialists has been with our team for at least 10 years, which is extremely rare in the marine repair industry. Whether your boat accident was structural, caused by a collision or was due to storm damage, we've got the team and tools to get your boat back on the water quickly.
Top Notch Repair Facility for Boats of all Sizes
Thanks to our workspace of more than 10,000 combined square footage, we truly can handle boats of all sizes. Quite frequently, our clients trust us to handle their large and expensive boats because they know that their boat will be protected at all times while it's in our hands. We are able to accommodate boats up to 38 feet in length, which is very difficult to find in MN. Within our facility, you'll find the most advanced technology and equipment to ensure that your boat is perfectly repaired. Worried about how you'll get your boat to our facility? No need to worry! We are proud to offer pickup and delivery services.
Marine Accident Repairs
If the financial side of your decision is stressing you out, let Anchor Marine Repair take some of that stress off of your shoulders. We gladly offer a free consultation on your marine accident repair needs. With this estimate, you'll get a true understanding of your expected out of pocket costs. From there, you'll be able to make a sound decision as to whether or not the time is right for you to repair your boat.
At Anchor Marine Repair, we take pride in being the preferred marine accident repair facility in Minnesota. To request a free consultation on your accident repair needs, give us a call today at (763) 972-3540 or email service@anchormarinerepair.com.