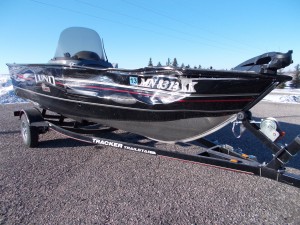 Owning a boat can make you feel a kind of freedom that few other experiences in life can.  You know that feeling—after a long week of work, you go out on your boat, maybe alone or maybe with family and friends, and the stress that you felt all week simply melts away. However, if your boat sustains damage and cannot be taken out again until it gets fixed, that feeling of freedom is replaced by something less positive.  Anchor Marine Repair is a leading Midwest Boat Repair Shop that will return your boat in better shape than before the damage and will also return that feeling of freedom again.
Boat Collision Repair
Regardless of whether the damage is to the fiberglass or aluminum hull, the gel coat finish, the windshield, the engine, or some other part of your boat, Anchor Marine Repair has the expertise and experience to return your boat to its pre-collision status.  Even the most experienced boat owners occasionally collide with objects that cause damage.  If the damage is superficial and you simply want your boat to look brand-new or if the damage is such that it cannot be taken out again until repairs are done, Anchor Marine Repair will do the job right.
Fiberglass Boat Repair
Fiberglass is an incredibly durable material that provides an ideal strength-to-weight ratio.  That, in part, is why it is used in the construction of recreational boats.  When it is damaged, however, repairing it properly requires extensive training and years of practice. Anchor Marine Repair's experienced staff specializes in fiberglass boat repair.
Aluminum Boat Repair
Aluminum is a very different material than fiberglass.  It is a far more flexible material, which means that collisions can dent and occasional tear it.  The repair process for aluminum is also different from that of fiberglass repair, requiring a different skillset of the staff performing the repairs.  Again, our staff understands the dynamics of the material and offers the same high-quality repair of aluminum boats as we do with fiberglass.
Free Pick-up and Drop-off
Fortunately for you, we do not limit our work on boats to those that are located conveniently near our shop.  We pick up and drop off repaired boats.  Our goal is to make your boat repairs as easy on you as possible and we believe we do an excellent job of that. Give us a call at 763-972-3540 with any questions you may have or if you would like to schedule a time for us to look at your boat.