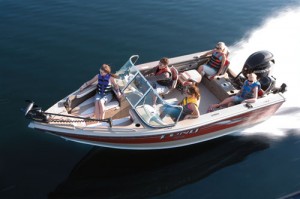 In order to be a successful boat repair shop, you have to be knowledgeable about all types of boats. Boat owners want to have a boat repair shop that is efficient, has experience and is trustworthy. After all, for many individuals, their boat may be their most prized possession. Living in or around the Minneapolis and St. Paul, MN area, you have access to the #1 boat repair shop in the area! Anchor Marine Repair strives to be your one stop shop for all types of boat repairs. Thanks to the experience of our repair staff, we can perform boat repair services on any type of boat.
3 Most Common Boat Groups
All types of boats can be split into 3 groupings, which include:
Leisure Boats – If relaxation and entertaining groups is your number one priority, leisure boats may be your best bet. Choose from pontoon boats, bowrider boats, sailboats, trawler boats or a cabin cruiser boat.
Fishing Boats – Another large percentage of individuals primary reason for getting a boat is to fish. Fishing boats come in a variety of styles including bass boats, center console boats, sport-fishing boats, aluminum fishing boats and walkaround boats.
Sport Boats – If you have the need for speed and enjoy watersports, choosing a sport boat is your best option. Various types of sport boats include ski boats, wakeboard boats, jet boats or a Jet Ski.
Your One Stop Shop
Whether you are looking to store your boat for the winter or you need some damage on your boat to be repaired, Anchor Marine Repair can handle all of your needs. We pride ourselves on repairing your boat to better than pre-accident condition. Each member of our boat repair team has been on staff for at least 10 years. This shows just how much we love working together. With over 45 years of combined experience you can bet that we have worked with nearly all types of boats and have tackled just about every boat repair job that you can find. No matter what type of boat you have, we make it easy on our customers to get their repair work done. In fact, we offer pickup and delivery services of the Minneapolis and St. Paul area.
Whether you own a leisure boat, fishing boat or sport boat, there will be times when you need work performed on your boat. If you live around the Minneapolis and St. Paul, MN region, you can count on Anchor Marine Repair for all of your boat repair needs. Give us a call today at (763) 972-3540 to set up a free estimate or consultation on your boat.