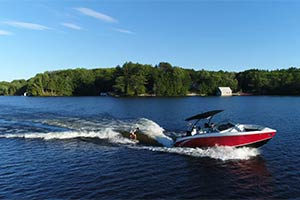 For over 50 years, Cobalt boats have been bringing smiles to their owner's faces. Whether you're a thrill-seeking family or one that provides a smooth ride out on the water, it's hard to beat a Cobalt boat. Owning a Cobalt boat is more than just the time you get to spend with it out on the water. If you're hoping to keep your Cobalt boat around for the long haul, then it is important that you find a Cobalt boat repair team to help you when the going gets tough. When it comes to Cobalt boat repairs, there is no better team to partner with than our professional crew at Anchor Marine Repair.
Pressure Free Cobalt Boat Repairs
No one wants their boat to have to go into the shop for repairs, especially their Cobalt boat. Dealing with your Cobalt boat repairs can be extremely stressful, especially if you choose the wrong boat repair team to work with. At Anchor Marine Repair, we understand that stress and anxiety that comes with getting your Cobalt boat repaired. That's why we have made it a point with every client of ours to make this a pressure free Cobalt boat repair process. Some of the ways that we have been able to make this a pressure free process is by providing pick-up and delivery services from your home or dock.
Cobalt Boat Repair Evaluations
Sometimes you may not know what's going on with your Cobalt boat, but whatever it is, you know it's not normal. No need to worry as we have experienced and qualified Cobalt boat repair experts that can diagnose and determine the damage that you're dealing with. Whether it is cosmetic or structural, we've got you covered. Through our easy Cobalt boat repair evaluation, we can determine the repairs that are needed. The best part about this evaluation is that it is completely free. This allows you to see a detailed estimate of repairs before you commit to the actual work, yet another way we make this a pressure free Cobalt boat repair process for our clients.
If you are looking for a trusted, affordable and experienced Cobalt boat repair team to handle your repair needs, Anchor Marine Repair is the partner for you. To request a free Cobalt boat repair evaluation, give us a call today at (763) 972-3540 or email service@anchormarinerepair.com.