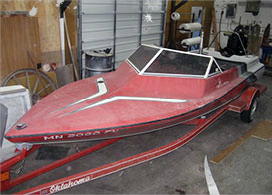 Do you remember that time you saw an amazingly beautiful girl with the most perfect face. Women were jealous of her flawless features, and men were gawking over her…She was perfect…Until she took her makeup off! Let us be the first to say, there is no shame in her game! If putting makeup on is the first step to making yourself look and feel better, do it! Likewise, maybe your boat is running just fine but needs some added curb appeal. At Anchor Marine Repair, we specialize in providing boat painting services in Minnetonka, MN. If you are ready to get your boat dolled up, we are your boat's best makeup artist.
Boats = Humans
Since we are already comparing humans to boats, let's just keep it going. Even if you have the most perfect, flawless skin, by the time you are 80, it will not look like that baby skin you used to have. This can also be said for your boat. No matter how careful and meticulous you may be with your boat, scratches, dings, and general fading will occur! After all, the boat is being exposed to water, road, sun, and hopefully not ice but it happens in Minnesota. So, when it comes to keeping your boat looking fresh and clean, painting it is essential.
Choosing A Painter
Would you let a 5 year old do your makeup before you went into a business meeting? Unless you are a clown, we hope you'd say no, absolutely not! So why do people think that painting a boat can be a DIY job. Listen boat owners, it's just not. Let the professionals who do this everyday take care of your boat. Painting a boat takes a lot of experience and essentially, a lot of prep time. If not done properly, your paint job will not hold up and begin to chip right away. At Anchor Marine Repair, we have the knowledge and experience to get your boat sanded down and prepped properly. Our skilled technicians are meticulous and spend quality time in the details of each paint job so that when you get your boat back, it will be like you just bought it brand new, without the price tag of course.
The fact of the matter is, just like humans, boats may show their age long before they are ready to keel over and head to the other side. If your boat is looking a little drab and you are looking for boat painting services in the Minnetonka, MN area, Anchor Marine Repair is your one stop shop for all your repair needs. For more information on our boat painting services, call us today at (763) 972-3540 or contact us at service@anchormarinerepair.com.