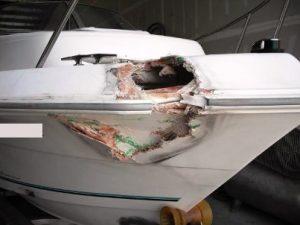 More and more people are joining the ranks of boat owners who find enjoyment in the leisure activity of boating and fishing. Proper maintenance and repair are critical to your continued enjoyment and the safe use of your boat. For your own safety and the safety of others, it is important to ensure the boat's continued safe operation through proper maintenance and repair. If your boat has been in a collision, showing wear from years of trailering, rocks, and docks, have it repaired by a reputable Minnesota boat repair company that has experience in collision, structural, and storm damaged boats to ensure it remains in first-rate condition and continue to operate properly.
Aluminum Boat Repair
Aluminum is used in most types of recreational watercraft. It is light, resistant to corrosion when anodized, and requires a minimum of maintenance. However, as anyone who has ever owned an aluminum boat knows, they are bound to suffer damage.
Aluminum Repair and Storm Damage Shown here – 2006 Crestliner 1750 Fish Hawk. The body repairs to this boat were perfect. The paint was better than factory condition. Look at how glossy the paint is.
Like all boat materials, it does require care and attention. Check periodically for serious dents, cracks and loose rivets at points of stress. From dents and scratches to corrosion, and holes, our boat repair technicians will expertly repair, replace, or refinish your watercraft's aluminum exterior. From patching holes to fixing leaky rivets and seams, we have performed all manner of repairs.  Whether your aluminum boat was damaged as the result of a collision or simply been exposed to the elements for far too long, our expert boat repair technicians can help!
Fiberglass Boat Repair
Fiberglass is one of the most popular materials used in construction of watercraft. It requires little maintenance, comes in many colors, and is very strong. Fiberglass boats can also need maintenance, however.  Over time, the fiberglass exterior and underside of your boat may become damaged.  Look at areas where the finish is marred with a pattern of small cracks radiating outward from a central point. The central point is usually the point of impact. Check carefully. If the hull is soft or cracked at that point, it needs repair.
Fiberglass Collision Damage
Shown here: 2006 GX205 Glastron. This boat was repaired in 2½ weeks, to better then new condition. Our repair side of the boat was actually straighter than the factory port side.
Hull Repair
The most important feature of a boat is the hull. This is what makes sure the boat will float. Cracks, holes, soft areas, and crushed fiberglass will prevent watercraft from floating and running properly. Without a sound hull, any boater is in trouble. If the fiberglass is seriously cracked it can allow water to seep into contact with wooden ribs or decking and the resulting rot can cause serious problems.
Whether caused by a storm, collision, or just normal wear and tear, once damage has occurred, it is imperative to quickly get the damage repaired to seal out moisture and protect your boat or watercraft from further damage and to ensure the boat is a seaworthy vessel.
Boat Trailer Repair
When transporting a boat, keeping the trailer in top shape is also important. Flat tires and wheel repairs need to be made quickly and professionally so that the boat can be put back on the water as soon as possible. Trailer collisions can also damage a boat's hull with dents and scratches. Repairs to the hull must be accompanied by trailer repairs to prevent a repeat performance.
Check the lights! A boat without lights is an accident waiting to happen.