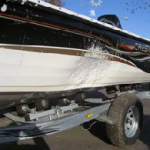 Warm weather, cool water, time with family and friends – right now it's perfect to take your boat out on the many lakes of Wayzata MN. The only problem is that your boat is in need of repair and you are not sure who to call for quality boat repairs. Thankfully, Anchor Marine Repair features experienced and skilled boat mechanics offering the highest quality maintenance and repairs.  We are also always dedicated to your investment and budget.
Below are a few of the most frequent types of boat repair we perform in our Wayzata MN shop:
Aluminum Boat Repair
Aluminum boats are some of the most durable and low maintenance boats available. They are often free of any major issues, but occasionally will spring a leak that must be addressed. The majority of aluminum boat leaks occur at the rivets as opposed to from rocks or other sharp objects. Should your boat experience a leak, it's important to only use experienced and skilled boat mechanics.
Boat Collision Repair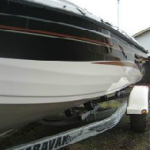 If you've had the misfortune of being involved in a boat collision, Anchor Marine Repair can help. Once you've been involved in a boat accident, it's important to act fast to mitigate the damage. This means finding a qualified boat repair shop that can seal out further moisture and prevent additional damage. Acting fast after a boat collision can often result in less damage, which translates into lower repair costs.
Boat Windshield Repair
A damaged boat windshield is not something that should be taken lightly. Neglecting to repair a boat windshield can result in reduction of visibility, or worse, glass chips which can become dislodged from the windshield at high speeds. This can result in injury to boat passengers or cause further damage to your boat.
Contact the MN Boat Repair Experts – Anchor Marine Repair
While no one likes to have to repair their boat, Anchor Marine Repair is dedicated to providing quality boat repairs within your budget. Give us a call today at 763-972-3540 and we will do everything in our power to protect your investment and get you back on the open waters of Minnesota in no time at all!