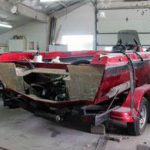 Now that the fishing season is officially open, it's time to get your old boat out of storage and back into shape! Summer is right around the corner in Wayzata Minnesota and you don't want to miss a potentially great and promising fishing season. You know your kids and their friends are very eager to get back out on the lake for water sports activities as well!
Why Choose Anchor Marine Repair

At Anchor Marine Repair, our expert technicians have many years of experience in boat repair and maintenance–which is why we are #1 in Storm and Collision Damage Repair.
Our close-knit family of technicians have been on our team for at least 10 years or more. Together, we provide exceptional services to our customers, with a combined 45 years of boat repair, renovation and refurbishing experience in order to go above and beyond your expectations. We have the skill set and the knowledge of the right products and materials available on the market to get your boat back in optimum condition. We work with you every step of the process, so you can guarantee that your boat will be like-new when it returns to you.
Services We Offer at Anchor Marine Repair:
Whether you need a new paint job or new carpet, Anchor Marine Repair is the solution for all your boat repair, restoration and refurbishing needs. Some services we offer include:
All of our technicians know how important preparation is in order for the paint on your boat to last. We make sure to take that extra step in order to keep your boat looking new.
Boat Repair
From minor damage to boats that are in dire need of extensive repair, we have the right technology, skills and materials to handle any job–big or small.
Boat Renovations
Looking to add the latest and greatest to your boat? From new, state of the art technology to elegant boat seats and sturdy wood floors, we can handle any and all of your renovation needs.
Aside from the engine, propellers are one of the most specifically created and important item part on your boat. Without the propeller, you will not get very far out on the water! Knowing how to correctly repair a propeller takes time and the right equipment, and takes a highly skilled technician to do the job right.
Boat Servicing
We offer many boat repair services including structural boat damage, Wood floor refinishing, Transom replacement, Top replacement, New upholstery, Leaking rivet repair and Boat trailer repair.
Why put off your boat repairs and renovations any longer? Now is the perfect time to upgrade your boat and get out on that lake where you belong.
If you have any questions about boat repairs, call Anchor Marine Repair today at 763-972-3540!