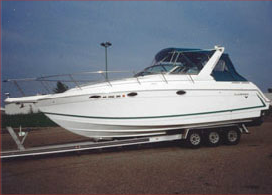 The specialized boat repair technicians at Anchor Marine Repair in Minnetonka go to great lengths to give our customers what they need. We provide industry leading boat repairs and complimentary boat pickup and drop off services all throughout the city of Minnetonka and even Minnesota. If you have any need for boat repairs, restoration or refinishing our Marine Specialists can provide the results you'll be proud of. Don't wait much longer to enjoy the many lakes this great state has to offer, contact our Boat Repair Shop near Minnetonka for all your marine repair needs.
Fiberglass Boat Repairs
Larson, Glastron and Chaparral are examples of some industry leading fiberglass boats that have made a name for themselves. Sometimes, even the strongest of boats run into rocky waters and take a hit. If this seems to be the case with your fiberglass boat, our marine repair specialists at Anchor Marine have the education, skill, passion and tools to restore your fiberglass boat back to its former glory.
Aluminum Boat Repairs
Alumacraft, Lund, and Crestliner are leading aluminum boat brand industries that have mastered crafting a solid boat. Our Minnetonka boat repair technicians have mastered repairing aluminum boats and can make sure your next launch out to the lake is a success, instead of a headache.  From structural damages to aluminum boat flooring replacement – Anchor Marine is your one stop boat repair shop in Minnesota!
Jet Ski Repairs
Kawasaki, Yamaha and Seadoo are excellent examples of some of the most common Jet Ski makers out there. We have seen and fixed them all. From stand up jet skis to three seaters. Don't let another summer day pass with your Jet Skis out of the water, contact Anchor Marine for prompt jet ski repair services.
Pontoon Repairs
The comfort of a pontoon boat over the lake is hard to deny. A pontoon boat has the ability to keep everyone on the boat happy, from taking a dip in the lake to snacking on the way to the next fishing spot, pontoon boats have so many possibilities. Unfortunately, things don't stay in brand-new condition forever. If you aren't as thrilled with the thought of your pontoon boat because the flooring is turning, upholstery is faded and ripped or she just isn't running like she used to, take her in…better yet, contact the pontoon repair specialist of Anchor Marine and we will pick up your pontoon boat, free of charge, and make the requested repairs.
Minnetonka Boat Repair Shop
Contact Anchor Marine for any of your Minnesota Marine Repair needs, email service@anchormarinerepair.com or call 763-972-3540.