Alumacraft Boat Repairs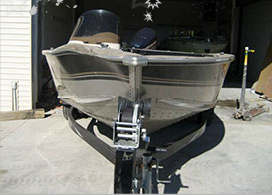 Alumacraft is a dedicated maker of Aluminum fishing boats that hold the test of time. And though this brand of boat is reliable and well-constructed, it is not untouchable out on the water. Rocks, travel and weather conditions can lead to unexpected damages to your Alumacraft boat. When damages happen, contact our Alumacraft Marine Repair Experts for professional services at affordable prices.
Chaparral Boat Repairs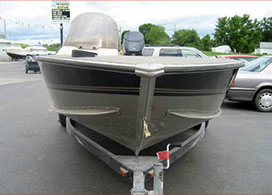 Chaparral fiberglass boats are treasures on the water. Just like any treasured investments, maintenance and repairs arise and there is no one better to turn to for Chaparral Boat Damage Repairs Services than Anchor Marine in Minnesota. We can get your boat back to showroom condition, so you can treasure her once more.
Crestliner Boat Repairs
Crestliners are award winning boats, that which would benefit from only experienced hands working on them. Our boat repair shop technicians have over a combined 45 years of experience repairing Aluminum Crestliner boats and can show you the results you want to see. Get back on the water with confidence when you choose the boat repair experts at Anchor Marine Repair.
Glastron Boat Repairs
The fiberglass boats crafted by Glastron are a dream come through for thrill seekers, water sport enthusiast and those that love luxuries on the water. Don't fret when one of your Glastron Boat Luxuries becomes damaged because our boat mechanics are specialized in Glastron Boat Repairs, from their technology to the structural integrity.
Larson Boat Repairs
Whether you're cruising, fishing or on a pontoon, keeping your Larson boat in tip-top shape will extend its life on-the-water and increase the amount of memories made on your prized Larson fiberglass boat.  Our Larson Boat Repair experts can order parts, replace and even refinish your fiberglass boat's paint job – if that's what floats your boat.
Lund Boat Repairs
What once started as an aluminum duck boat has now evolved into a part of the American Dream – to own a Boat. Lund Boats are among the most popular around Minnesota and can be described as a solid icon for fishing boats everywhere. Be sure proper repairs are completed and always seek out professionals for Lund Boat Repairs, no matter the damage.
Anchor Marine is also a boat repair shop experienced in MasterCraft Boat Repairs, Ranger Boat Repairs, Sea Ray Boat Repairs, Pontoon Repairs and Jet Ski Repairs. If your boat can't dock and you feel like a fish out of water, contact our Minnesota Boat Repair Shop for all your Marine Repair needs at 763-972-3540.