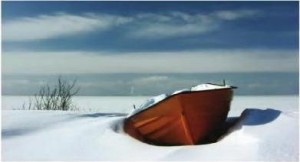 Even though summer feels like it just ended, winter is around the corner and it is the perfect time to make plans to winterize your home, your vehicle(s) and your boat. Minnesota winters are particularly intense and cold and there are many things to do to get ready before the frigid temperatures set in. Protecting the things you own that are normally stored outdoors is critical to ensuring that they will survive the long, cold winter and be ready for use again in the spring. Your boat is one item that can easily be protected and stored for the winter as you will not be able to take it out on the water at all during the winter months. In addition to being a leading boat repair company in Minneapolis, Anchor Marine Repair can store your boat in a climate controlled facility all winter, so that you can be confident that it will be ready when things thaw out!
Anchor Marine Repair Winterization Services
Anchor Marine Repair provides professional boat repair, winterization and boat storage services to those in the Minneapolis, MN and surrounding areas. Our team will take the headache of storing your boat all winter completely away by picking up your boat and transporting it to our state of the art facility. Before we park it for the winter, we are happy to complete any necessary repairs and complete the winterization process so that when the spring arrives and it is time to crank up the engine, it will fire up without issue.
Our team will inspect your boat, change your oil and filters, flush the engine, add antifreeze, and add fuel before storing it in our 10,000 square foot, temperature controlled facility. Even if your boat needs no repairs this year, storing it all winter will keep it in good shape and prevent potential damage this winter.
Convenient Boat Storage for the Winter
If you are trying to decide what to do with your boat this winter, look no further than Anchor Marine Repair. We will come to you and get your boat as well as any specific instructions you have. Our team is professional and has many years of experience in the boating industry. We love boats as much as you do and promise to keep your prized possession safe and protected all winter. Give Anchor Marine Repair a call at 763-962-3540 today for more information about our services!