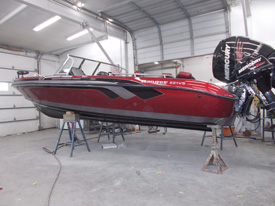 Summer is finally here, and if you haven't already, it is time to get your Ranger boat back in the water! Wait, you're Ranger boat needs repairs before it's ready to be used again? Well, although your family may be upset that you have procrastinated on the boat repairs, Anchor Marine Repair is here to help! Let us take care of all of your Ranger boat repair needs so that you and your family can get back out on the water quickly! Our dedicated staff has a true passion for serving individuals and is the best Ranger Boat Repair Specialist near you, if you're located in Minnesota or Western Wisconsin.
The Ranger Focus
Owners of Ranger boats can be quite particular about their boat, and they should be! Finding a reliable and experienced Ranger boat repair shop that specializes in in your boat can be difficult. Anchor Marine Repair is the number one boat repair shop in the area for a reason, we know our boats! No matter what kind of repair your boat needs, we have you covered. Common repairs performed by our staff include:
Structural Repair or Damage
Floor Refinishing
New Upholstery
Transom Replacement
Leaking Rivet Repair
Boat Trailer Repair
Wanting to run the damage through your boat insurance provider? No need to worry as we are a Ranger boat insurance approved repair company. We will work with your insurance adjuster to make sure that all identified issues are addressed during the repair process. Additionally, we specialize in storm damage Ranger boat repair as well, which is a common issue due to the volatile Minnesota weather.
High Quality Amenities
By teaming up with our staff, your boat is treated like royalty! Our experienced team has over 45 years worth of combined boat repair experience. Additionally, each of our technicians has been on staff for at least 10 years, which is unheard of in this industry. We cater to our customers because you are what drives our success. If you ever need your Ranger boat repaired, our goal is for you to think Anchor Marine Repair every time! To facilitate this, we offer boat pick up and delivery service.
Don't let summer pass you by before you get your boat repaired! If you are in need of boat repair service, give Anchor Marine Repair a call today at (763) 972-3540. We will set you up with a free estimate and get you and your family back out on the water fast!