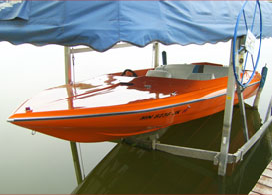 Fall and winter are on the way and that very likely means that you will soon have to pull your boat out of the water for the summer and store it until it warms up enough next year to get it back out.  There is no doubt that the end of the warm months in Minnesota is dreaded by boat owners. But, these cold, winter months can be used to repair or refinish your beloved boat and get your boat back in the best shape possible. Anchor Marine Repair can completely refinish or refurbish your boat while it is not in use so that, come spring, it is ready for the water!
Expert Boat Repair And Refinishing
Anchor Marine Repair has become the premier boat renovation, restoration and repair service in the entire state of Minnesota, with a two building facility that offers more than 10,000 square feet of working space.  Our state of the art buildings can accommodate boats up to 38 feet in length and will even pick up or deliver your boat to/from our facility.  Each member of our boat refinishing team has a passion for boats and the water and will work hard to make the necessary improvements you are looking for.  Some of the most popular refinishing projects we complete include:
New upholstery
Wood floor refinishing
Exterior restoration (from normal wear and tear or storm damage)
Top replacement
Transom replacement
Boat trailer repair
Structural damage
High Quality Work, Affordable Pricing and Strong Customer Service
What sets Anchor Marine apart from other boat repair companies in the Minnesota area?  Our team is dedicated, passionate and experienced.  Each member of our team has been working with Anchor for more than 10 years and together they offer customers nearly 50 years of experience.  In addition, we use only the highest quality products on the market and keep our prices affordable.  We are upfront about all anticipated costs and can even work directly with your insurance company on your behalf.
So, rather than docking your boat for the winter, use this time to get your boat in better shape for your next season on the water.  Anchor Marine Repair can take care of all of your refinishing and repair needs and pick up and deliver your boat to your home or dock so that you do not have to worry about transporting it.  Call 763-972-3540 for more information or to schedule an appointment!