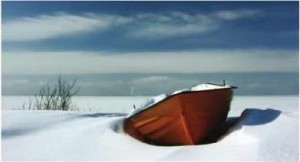 As winter approaches and you find yourself spending less and less time in your boat on the water, you must start to think about the important process of winterization. Minnesota winters are some of the coldest and most brutal in the entire country and without proper protection, your boat can take quite a beating from the harsh elements. Winterizing your boat can help prevent costly damage and ensure that it is ready for the water come spring. Anchor Marine, located in Minneapolis MN, offers dependable, affordable and convenient boat winterization services.
Why Winterize Your Boat?
Leaving your boat outdoors during the winter months can cause significant damage and can leave the exterior of your boat worn, weathered and weak. Boat winterization protects the exterior of your boat and it's engine so that when the weather improves, it will be immediately ready to get back on the water. Anchor Marine offers winter boat storage and engine winterization and follows a safe and thorough process to ensure that your boat is winterized properly:
When your boat arrives at our facility, our team will inspect it thoroughly, from bow to stern.
We change all oils and filters and add appropriate levels of antifreeze so that your boat stays properly lubricated.
We also flush and wash the engine and boat.
We change your fuel filters and add fuel so that your boat is not sitting on empty through the winter.
We will drain the livewell and pump with non-toxic antifreeze
We will store your boat in an indoor, climate controlled environment that will protect your boat from the harsh winter elements.
Anchor Marine Makes Winterizing Your Boat Easy
Anchor Marine will even come and pick up your boat for the winter if you live in the Minneapolis St-Paul area or in Western Wisconsin, so that you do not have to deal with the hassle of driving it to us. All you have to do is give us a call, empty your boat of any personal items, and let us take care of the rest. And you can be confident knowing that your boat will be safe, protected and ready to hit the water at the first sign of spring. Our boat technicians specialize in winterization as well as boat repair, so if you need something looked at on your boat and want to have the repair done over the winter, we can also help with that. Winter is on its way, so give our team a call at 1-763-972-3540 to schedule a time for a pickup!