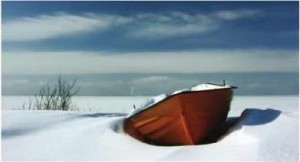 Is Minnesota the only state that changes the noun, "winter" into a verb and then says that we must "winterize" everything? Who knows, maybe Canada says it too. BBBRRR! Are you cold already? During prime boating season, we forget the actual bite that Minnesota winters can bring. As the sun beams down on our lightly tanned cheeks and the fish practically jump out of the water and onto our hooks, we tend to forget that we were recently living like eskimos in a parka and snowshoes. When winter weather hits, we don't just put on a light jacket and cover up our bathing suits. No, we winterize the mess out of ourselves! Snow goulashes, hot furnaces, multiple layers of clothes, and a pretty warm bed and blanket to get cozy in at night. Of course, that's surrounded by thick insulated walls that protect us from the Minnesota winds. So wouldn't you want to do the same for your boat? While it may not enjoy the same peppermint mocha latte that you enjoy this time of year, it would definitely benefit from boat winterization at Anchor Marine Repair.
You're Wise to Winterize
Going out on a limb here, we are guessing that if you decided to stay out on the lake in that nice little bathing suit during the Minnesota winter months, you would probably die. So what do you think happens to your boat? There is a perfectly good reason you swap out your boat for an enclosed fish house, but are you doing enough to protect your boat during the off season? Help prevent costly damage and ensure that your boat will be ready for the water come this spring. At Anchor Marine Repair, we offer dependable and affordable boat winterization services. Leaving your boat outside during the winter months is dangerous not only to the exterior of your boat, but also the engine! We can store your boat for you and provide the proper boat winterization steps that ensures your boat will be ready for the spring.
Anchor Marine Repair Winterization Process
We do a thorough job inspecting your boat for needed repairs from bow to stern.
Changing the oil, filters, and adding antifreeze to your boat keeps your boat properly lubricated throughout the season.
Flushing and washing the boat is both fun for us and a necessity to get the grime off of your boat, keeping it nice and clean.
Fuel filter change and added fuel keeps your boat from sitting on empty throughout the season.
Draining the livewell and pump with our non-toxic antifreeze keeps everything in pristine condition for the season.
Your boat will be safe in our indoor, climate controlled environment that basically makes it feel like it's being snuggled under a blanket with a nice peppermint mocha latte.
So don't wait until 50 pounds of snow has ruined your boat. Call Anchor Marine Repair today and arrange for our pickup and delivery service. Call us today at 763-972-3540.