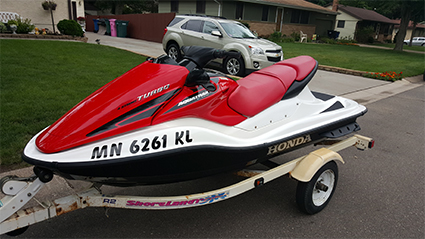 The cold months in Delano, MN have begun and that means it is time to properly store those jet skis before the winter hits. Just like any watercraft, it is important to not only store your jet ski during the frigid months of the year, but also winterize your jet ski as well. Thanks to Anchor Marine Repair, you can have the best of both worlds! Our dedicated staff is eager to offer you indoor jet ski winter storage in our state of the art indoor facility. While we have your jet ski, let us winterize your watercraft so that it is rejuvenated and ready to get back out on the water come the spring!
Jet Ski Winterization Services
Jet ski winterization is a process that you should consider every year as you store your best friend for the cold months in Minnesota. At Anchor Marine Repair, we provide our customers with a detailed winterization evaluation so that any damage, repairs or upgrades are addressed while it is being stored in our facility. Our winterization process includes the following steps:
Inspect the jet ski for any damages.
Change the oil, filters and level out all fluids.
Stabilize the fuel to prevent any buildup while being stored.
Clear out all water.
Remove and clean spark plugs.
Coat cylinder walls with oil to prevent rust and corrosion.
Drain your pump.
Disconnect and store battery.
Detailed cleaning and waxing of jet ski.
Convenient Jet Ski Repairs and Storage
At Anchor Marine Repair, keeping our customers happy is our number one priority. For instance, we understand that having to bring your jet ski over to our facility can be a hassle. To help with this, we offer pickup services for any customers. Now you have no excuse this winter to properly maintain and store your jet ski! Stay warm inside your home and let our team handle the dirty work. Next thing you know, your jet ski will be refreshed and ready to be back out on the water with you in no time! Teaming up with the #1 boat repair shop in the area should be a no brainer this winter!
We understand that it may be hard for you to separate yourself from your favorite toy. However, in order to keep that jet ski around for years to come, it is important that it goes through the winterization process and is stored properly during the winter months in Delano, MN. Team up with Anchor Marine Repair today for all of your jet ski storage needs by calling (763) 972-3540.