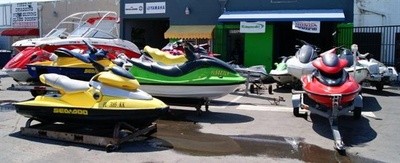 Your wave runner is built for fun on the water. It offers you and your family an exciting and exhilarating ride on the beautiful local waterways. It is also a large investment that you want to protect.  When your wave runner needs to be repaired or it is time to store it for the winter months, Anchor Marine Repair can help. We are a one stop shop for wave runner repair and storage. Our team understands how important your wave runner is to you – we share the same passion for boats and for watersports. We also understand that you want to spend as much time as possible on the water. We have a large 10,000 square feet two building facility that allows us to repair jet skis and other boats quickly so that time away from the water is minimized.
Jet Ski Repair and Storage, Minneapolis/St Paul
Anchor Marine Repair can service all brands of wave runners including Honda, Kawasaki, Yamaha, Seadoo, and Polaris. Our highly skilled and experienced technicians use only state of the art tools, equipment and repair techniques. We will help you protect your investment with repairs when you need it. And, when the temperatures drop and the Midwest winter sets it, we can protect your wave runner by helping you store it for the winter months. We offer both indoor and outdoor storage options and winterization which can extend the life of your wave runner. Anchor Marine Repair makes it easy for you to store and repair your wave runner this winter, so that when spring arrives your jet ski is ready to go back in the water.
Wave Runner Repair and Storage
Whether you need storage or repairs, Anchor Marine Repair will make transporting your wave runner to our facility easy for you. We offer boat pick up and delivery in the Minneapolis/St Paul area.  If your wave runner is located, we will come pick it up for you and transport it to our Babcock Blvd. location so that you do not have to worry about transporting it yourself.
One Stop Boat Repair Shop
Now is a great time to take care of any repairs that your wave runner needs AND store it for the winter months. Our technicians can make any necessary repairs and then prepare your wave runner for winter storage.  For more information or to schedule a time for our crew to come pick up your jet ski, call Anchor Marine Repair today at 763-972-3540 or email service@anchormarinerepair.com.