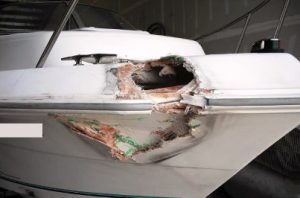 Has your boat recently been involved in an accident around Minnesota? Has storm damage from a recent storm caused damage to your boat? If either of these situations has occurred, you should consider filing an insurance claim to get the repairs covered. Dealing with an insurance claim on your own can be a stressful and overwhelming process. That's where having a relationship with our team at Anchor Marine Repair comes in handy. We have boat insurance repair experts on hand who are ready and willing to help you with your boat insurance claim.
Professional & Experienced Boat Repair Team
Insurance adjusters have a reputation of only identifying a minimal amount of damage. You have been regularly paying for your boat insurance, so when your insurance coverage is needed, it's important to make sure that you get the most out of your claim. Our boat insurance repair experts are here to make sure that happens for you. We are a team on your side that will inspect every inch of your boat and document every bit of damage that we find that occurred because of the accident or storm damage that you were involved with. When your insurance adjuster arrives to inspect your boat, we'll be there to ensure that they make note of all of our observations. In turn, you'll get the most out of your insurance claim.
Top-Notch Boat Repairs in MN
When it comes to the actual repair work that is needed on your boat, our team excels in this area as well. We work diligently to repair your boat to better than pre-accident condition. Additionally, we are known as the #1 boat repair shop in the area for storm and collision damage boat repairs. Whether it is damage to your fiberglass, boat upholstery, aluminum, etc., we've got you covered. We work with nearly all insurance companies, and we are an insurance preferred boat repair shop thanks to our exceptional reputation across Minnesota. If transportation is an issue, we are proud to offer pick-up and delivery services.
Don't get too down on yourself if your boat has been involved in an accident or storm damage has caused damage to your boat. All you need to do is pick up the phone and get in contact with our boat insurance repair experts in MN. We'll be with you every step of the way during the insurance claim filing process. To learn more about our insurance repair services, give us a call today at (763) 972-3540