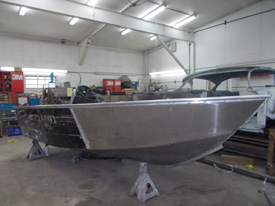 One of the most important, and often overlooked, parts of owning a boat is proper boat maintenance. If you repair your boat and keep it up to date, it can last you a long time.
Many boat engines and boat motors need some maintenance to keep running, but it's usually not a huge hassle. Most outboards need the fluid in the lower part near the propeller to be changed. Inboards, much like a car engine, need periodic oil changes. Both require the prop to be in good condition because a bent prop can cause various issues due to vibration, sometimes even leading to serious boat engine repair.
Although sport boats may be a lot of fun, they require quite a bit of maintenance to keep them at the top of their performance. Constant washing, waxing and driveline care is always necessary. Engines need to be maintained, steering components need to be adjusted and finally, because of the nature of the design, all components need to be checkout out prior to every serious day long outing.
Aluminum boats are one of the best low maintenance boats currently on the market. Every now and then, they will require washing, buffing and some anti-corrosive agents, but that is about all that is needed for common maintenance. If your aluminum boat ever gets damaged, or if the rivets come loose with age, professional boat restoration will be needed because aluminum boat repair requires special equipment.
If you have any questions about your aluminum boat, give us a call today at 763-972-3540! Our team of experts at Anchor Marine Repair will be more than happy to answer any issues you may be experiencing with your boat.