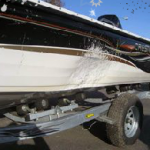 Summer is just around the corner and with the frigid cold temperatures we've had in Minnesota this winter, many boat owners will be itching to get their boats out as soon as possible. Because boating is one of the most preferred recreational sports here in Minnesota and in Wisconsin during the summer, boat collisions both on and off the water are quite common.
But before you rush out to the closest lake or river when summer hits, remember how important boat repair is. If your boat has been damaged or previously damaged from collision, proper maintenance and boat repair is necessary to extend the life of your beloved craft.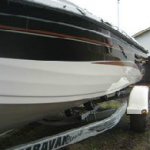 New improvements paired with modern technology including safer passenger cabins, sturdier boats seats, enhanced engines and better hull designs, have allowed water travel to be safer, cheaper and more comfortable. Although newer and sturdier products and materials have been added to boats to make them last, proper repair and maintenance is still important to increase its longevity.
But just like your car, your boat needs annual maintenance, and it is imperative to repair any damages that occur to keep your boat in full function. Failing to repair any damage done to your boat could lead to thousands of dollars in repair in the future–or even put you in the market for a new boat.
If damage has occurred to your boat, it is important to quickly get the damage repaired in order to keep moisture out and shield your boat from additional damage. For example, damage to the hull of the boat can cause significant flood damage or create stress cracks which can impair it causing the hull to break. The hull needs to be properly inspected by a professional in order to seek out any cracks, fractures of joints, or any other damage that may be hidden to the untrained eye.
Fiberglass boats can also be tricky to spot any evident damage after a collision because fiberglass tends to flex. After a collision, the fiberglass will rebound and hide any damage that has occurred.
Is your boat in need of repair?!
At Anchor Marine Repair, we know that your boat is a sizable investment that needs proper maintenance in order to keep your boat in working condition for many years to come. We are a full service boat repair shop specializing in accidents, cosmetic imperfections, large structural damages, and much more.
If you have any questions about Boat Collision Damage Repair, call Anchor Marine Repair today at 763-972-3540!