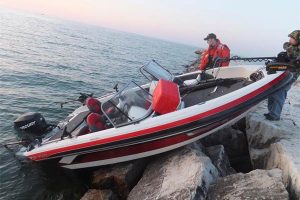 If the enjoyment of the wonderful weather and being able to spend time on the beautiful MN waters has come to a screeching halt because of some boat damage that has recently occurred, it's critical that you get your boat damage repaired by the experts. Our team at Anchor Marine Repair has built a reputation in MN that cannot be matched when it comes to handling boat damage repairs.
When it comes to the experience that we strive to provide for our clients, we are constantly looking to improve. Never settling for mediocrity is a critical reason for why we've been so successful over the years as a boat damage repair shop. Dealing with boat damage is never very fun, but our team is committed to make the repair process as smooth, quick and effective as possible. Some of the many benefits that you'll gain access to by choosing to work with our boat damage repair experts include the following:
Top Notch Repairs – Our staff is committed to repairing your boat to better than pre-accident condition.
Experienced Staff – With over 45 years of combined experience, our boat damage repair professionals have handled every type of collision, storm or structural damage that you can imagine.
pick up & Delivery – To make things easier on our clients, we're proud to offer pick-up and delivery services for any of our customers.
Insurance Approved Boat Damage Repair Company
Dealing with the insurance process after a boat accident adds additional stress that you shouldn't have to deal with. Our boat damage repair experts are also well experienced in dealing with the insurance process. We work with just about every boat insurance company around. With your best interests in mind, we'll work with you throughout the claims process to ensure that every bit of boat damage that exists is identified and addressed.
If you recently had a boat accident where damage to your boat occurred, teaming up with the #1 boat repair company around should be your top priority. Serving MN, Anchor Marine Repair are the boat damage repair experts that you can count on. This is a partnership that is full of benefits for both you and your boat! Contact our staff today at (763) 972-3540 to schedule your boat damage repair.