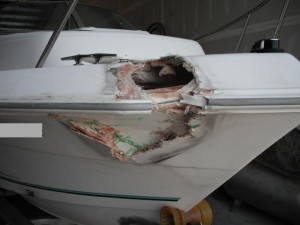 Boats are fun, aren't they? No one ever says, "Gee, I hope my boat gets damaged today." Of course not! Why? Because when you own a boat, going out into the water is a fun and magical adventure, not something you dread. So, when you damage your boat, it can be pretty upsetting. If your boat has been recently damaged, let Anchor Marine Repair fix it up and get it back out onto the water. We are a repair shop in MN that will work with your insurance company to get the damage covered financially and then repaired better than pre-accident condition.
Boat Damage and Repair
Unfortunately, in our line of work, we see a lot of boats that come in pretty banged up. Some boats have been in a collision, some damaged after a big storm, some have just accidently hit the dock or trailer, or even hit a rock underneath the water. Whatever the boat damage is, we can fix it! Our skilled technicians have a long and broad range of talents and experience providing boat repair services to boat owners all in the MN area. We specialize in every aspect of boat repair, some of which includes:
Structural boat damage
Wood floor refinishing
Transom replacement
Top replacement
New upholstery
Leaking rivet repair
Boat trailer repair
All of these boat repair services are done quickly so that you can get back to enjoying the things you love most about your boat.
Insurance Coverage
If you own a boat, you know that they just aren't cheap. Maintenance alone can cost a pretty penny. So, when even minor damage occurs to your boat, it's important to know who will fix your boat at the lowest cost to you. Anchor Marine Repair is the number one Minneapolis boat repair shop in the area. We have a combined 45 years of boat repair experience, and it shows. This is why insurance companies rely on us to fix the boat correctly and at a low cost to the actual owners. We will work with your insurance company, explaining all the damage, so that you will be able to get your boat back on the water with the minimum amount of out of pocket charges possible.
If you live in MN and your boat has been recently damaged, let Anchor Marine Repair work with your insurance company in getting your boat repaired today. Call us for a free estimate and consultation at (763) 972-3540 or email us today at service@anchormarinerepair.com.