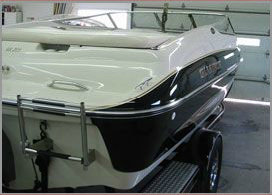 When your boat is in need of refinishing, whether it be fiberglass repairs, wood refinishing, or a new boat paint job, Anchor Marine Repair is here to help you with all of your boat refinishing needs. As a trusted Minnesota boat refinishing company, we service boats from cities and towns all over Minnesota. That means that your Maple Grove, MN boat refinishing needs are well within our service area. So if your boat is looking a little worse for wear after a year of hard use, spruce it up before winter comes by bringing it in for refinishing that will leave your boat looking good as new and ready for the next Minnesota boating season.
Fiberglass Boat Refinishing with Metal Flake Repair and Gelcoat Maintenance
Fiberglass boats, while beautiful, require proper upkeep and maintenance to keep that "good-as-new" appearance we all love to see on our boats. Fiberglass boat maintenance involves gelcoat upkeep to preserve the color of your boat's metal flake paint job. Once the gelcoat is worn away, your metal flake layer isn't far behind, and if your metal flake has begun to oxidize and turn silver, don't wait to make the necessary restorations. We'll provide fiberglass boat refinishing services that will bring your bright paint job back to life, protecting your metal flake with a new gelcoat that will keep your boat safe from metal flake damage and reducing your chances of needing frequent fiberglass refinishing.
Wood Boat Refinishing
As a full-service boat refinishing and repair shop, we service all kinds of boats, from aluminum to fiberglass to wood, and that means that we're well equipped to deal with any boat refinishing jobs you throw our way, including wood refinishing projects. Whether the majority of your boat is made of wood, or there are a few sections of wood, if you need our wood boat refinishing services to get your wood boat, or partially wooden boat, looking like new, we'll be here. We'll ensure that your boat's wooden surfaces receive the treatment they need to restore your wood boat's original coloring. We'll also help you better protect your wood boat from the elements with wood boat refinishing that will not only leave your boat looking like new, but will help you keep it safe from water or weather damage.
Boat Accident Refinishing
It doesn't matter how dented, broken, or bruised your boat may be. We deal with the most gently treat and well-maintained boat refinishing to boats that have just been through their absolute worst days and somehow come out on the other side of a boating accident. Whatever your boat refinishing project may be, whether it be a new paint job, fiberglass boat refinishing, or wood boat refinishing, Anchor Marine Repair is here to help. We'll provide you with Maple Grove, Minnesota boat refinishing services you can trust, backed by our years of experience and countless successful boat refinishing projects. Contact us today at 763-972-3540 or service@anchormarinerepair.com, and begin your boat refinishing project today.