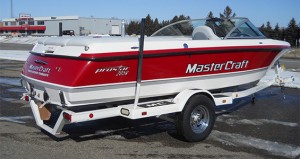 Every boat owner knows that purchasing a boat is a sizable investment. That's why it is extremely important to follow preventative steps in order to keep your valued boat working properly and to extend the life of it.
Just like your car, boats should receive annual check-ups in order to make sure proper maintenance can be completed if something is damaged. If you wait too long to get your boat into the shop for minor repairs, you could be costing yourself  double to fix them, or worse, you may find yourself shopping around for a new boat.
At Anchor Marine Repair, we know how important your boat is. We offer buffing, waxing and detailing services so your boat will leave the shop looking better than it did the day you got it.
Don't wait until the day before fishing opener to fine-tune your boat. If your boat has been idle during the entire winter, it is best to get it checked out as soon as possible to avoid any hidden issues that could cause you to miss opener.
Our elite technicians at Anchor Marine Repair provide every customer with efficient, quality, and professional services they deserve, which is why we are voted #1 in Minneapolis. We will work with you every step of the boat maintenance process, so you will know what steps need to be completed to keep your boat working smoothly.
If you have any questions about boat maintenance, call the professionals at Anchor Marine Repair today at 763-972-3540!