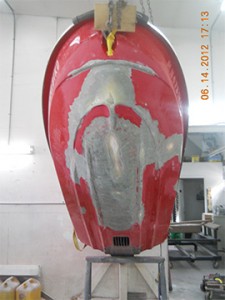 Minnesota has harsh weather conditions that wreak havoc on boats. The urge to take your boat out on a beautiful day could be dampened when you realize that the paint is no longer looking sleek and shiny. You can easily bring it back to life by having Professional Boat Painting services at Anchor Marine Repair. We have state-of-the-art technology and 45 years of combined experience in bringing Minnetonka, MN boats back to glory. Our boat repair technicians take the time to perfect every detail and never overlook proper preparation.
Preparation Takes Skill And Experience
A top quality paint job is only as good as the preparation work that goes into it. Prepping a boat for painting requires skill and experience. We will thoroughly sand and dewax the surface to make sure all flaws and contaminates are removed prior to priming. During this process our skilled technician will repair and damage including scratches and holes. The gloss coat will magnify any defects that have not been properly repaired.
Spray Booths Accommodate Large Boats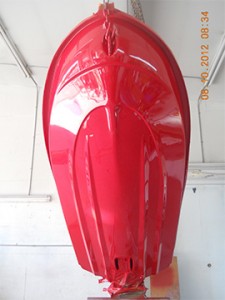 Anchor Marine Repair has a two spray booths that utilize the latest technology. We can accommodate boats up to 38 feet long. Our boat paint technicians use the best techniques and tools to ensure a professional job every time.
A Boat Looks Better Than New
Our team is highly experienced and skilled in Boat Painting Services, Metal Flake and Gelcoat Repair. While at our facility your prized boat can be fully restored to its former glory or you may choose to transform it into a totally new look. We can match original factory paint finishes or can customize the finish to match your style. Why not add new upholstery and refinish flooring for a boat that looks better than new?
Professional Boat Painting Services
Anchor Marine Repair loves boats – period. We have a highly skilled team of Expert Boat Repair Technicians that can transform a shabby looking boat into a boat that looks better than new. We have a state-of-the-art facility in the Minnetonka, MN area that can accommodate large boats and provide Professional Boat Painting Services. Our technicians perfect every detail and do skilled preparation work. Your boat will be a gem on the lake next season.
Call Anchor Marine Repair Today at 763-972-3540