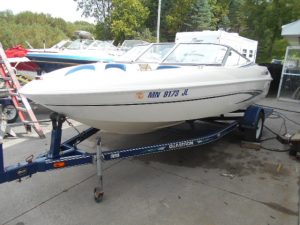 Anchor Marine Repair is well equipped to refinish your boat. We have tons of experience with boats of all types and materials, from wood to fiberglass, from Glastron to Alumacraft. Our shop is fully equipped to refinish your boat and restore its luster to the day you purchased it.
The original finish of your boat makes a difference in how much effort is required to complete a refinish. For example, if your boat's finish is gel coat, the amount of effort may be minimal and some boat owners may want to perform the refinish themselves. But even gelcoat refinishing requires having access to the right tools and material. Getting under the gel coat to perform a full repainting is a much more time- and energy-intensive project, but that may be necessary in order to do the job right. And that is exactly why we recommend letting us do the job for you. Projects that seem simple at first can become much more involved and difficult for ambitious and well-meaning boat owners. At Anchor Marine Repair, we understand the scope of projects large and small, and we can help you avoid the surprises that often go along with do-it-yourself projects.
Below are some of the factors we consider before performing refinishes on your boat:
● The material your boat is made of will help us determine what kind of cleaner is necessary to prep your boat for refinishing. We will remove evidence of stains and oxidation with the cleaning agent that is right for your boat's material.
● If you have a fiberglass boat, chances are good that it also has a gelcoat finish. Gelcoat is a resin that provides the protective surface of your boat. Refinishing a fiberglass boat means that the gelcoat will need to be replaced. We will replace the gelcoat and ensure that it is smooth and even, providing your boat with optimal protection.
● If the finish on your boat requires repainting, more work will be involved. Repainting your boat will make it look like new, especially if the work is done by Anchor Marine Repair. We want our customers to know the extent of the work that is necessary so that they can make informed decisions about their boat's maintenance costs. If your boat is not in need of repainting, we also have polishes and waxes that may provide the kind of luster you are looking for.
● Boats that are in decent condition may need only some cosmetic attention. In such cases, we can apply a color restorer to enhance your boat's finish. When applied by a professional boat refinishing service, a good color restorer will remove oxidation, chalking, and fading.
Experienced Boat Refinishing Shop
We can help you determine what level of refinishing your boat can best benefit from. Give us a call us at 763-972-3540 or email us at service@anchormarinerepair.com.