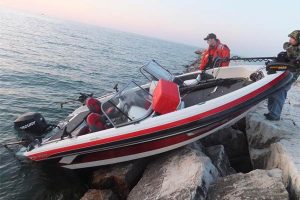 Anchor Marine Repair provides the best structural repair services available to Minnesota boat owners. We specialize in the repair of structural damage and boat renovations and do not provide mechanical repairs. When it comes to structural repairs, there is not a boat "injury" that we cannot fix. Our collective experience and hard-earned expertise in structural repair is unmatched in the boat repair industry. We are proud of this fact, and state it confidently because it is a statement of truth, and this excellence results in the great satisfaction of our customers.
State-of-the-Art Boat Repair Facility
One of the additional reasons that we are so confident about our structural repair services is our facility. The technicians at Anchor Marine Repair are good at what they do in some measure because of the state-of-the-art facility in which they do their work. Our workspace is approximately ten thousand square feet, which allows us to keep on hand the tools and repair materials that other boat repair shops have to order. In addition to our enormous workspace, we have two spray booths. One is a forty-two-footer, and the other is a forty-eight-footer. Spray booths of those sizes allow us to complete the painting and curing processes much faster, and that means that you get your boat back on the water more quickly.
Keep in mind, we work rapidly, but never hastily. The combination of our decades of experience, expertise, and state of the art facility creates a level of efficiency that other boat repair companies can only envy. When you have your boat serviced by Anchor Marine Repair, we will treat it like our own and provide it with the care it needs, so that you can get it back out on the water when you are ready to do so.
One Stop Boat Repair Shop
A facility the size of ours may leave the impression that we can only service very large boats. If you own a jet ski or a smaller than small boat that you use only for Saturday morning fishing, and it needs repair, we will repair it. But if you own a much larger boat, we are equipped to do the necessary work on it too. We also work on many different types of boat materials. We can repair aluminum and fiberglass boats, and we also have the capacity to repair and refurbish wood interiors and other materials. If you have any questions or would like to schedule a time for us to look at your boat, call us at (763) 972-3540.