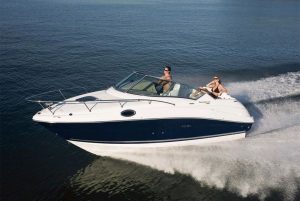 Sea Ray Boats have been on the water since 1959 and are known for their beautiful yachts, sport boats and sport cruisers. This brand of boat is highly regarded and ideal for those who are looking for a smooth and quiet ride. If you have owned your Sea Ray for a number of years, it may be time to consider some renovations or restorations to keep your boat functioning well and looking its best. Anchor Marine Repair specializes in Sea Ray boat restoration. We can repair or replace old or damaged upholstery, replace the windows or the windshield, and even restore the floor of the boat so that you can enjoy it for many more years to come.
Sea Ray Boat Restoration Services
Anchor Marine Repair understands how important your Sea Ray is to you. In fact, each member of our staff has a sincere passion for boats. So, when you bring your Sea Ray to our shop, you can be confident that it will be treated with the care that it deserves. Our state of the art facility is over 10,000 square feet of working space, meaning that we can work on boats up to 38' in length. We have developed close relationships with suppliers all over the country so we an get parts in quickly, which means your boat will be back in the water in no time! We also offer free estimates as well as delivery and pick up service. Our team makes getting your Sea Ray boat repaired or restored as easy as possible.
Invest In your Sea Ray Boat this Season
Your Sea Ray boat is likely one of your biggest and most beloved investments. As much as you hate to take it out of the water, the fact is that there are times when it needs to be restored or repaired so that it can maintain its value and functionality. Anchor Marine Repair offers quick turnaround, affordable pricing, and expert service so that you can feel confident about trusting your boat to our crew. We will make sure that your Sea Ray looks its very best, glides effortlessly in the water and that every high-tech feature works flawlessly. Now is a great time to schedule a time to have your Sea Ray worked on. Call Anchor Marine Repair at 763-972-3540 and let us take care of the rest.