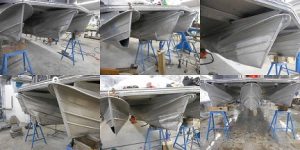 Boating enthusiasts understand the joy of spending lazy days on the water, cruising along picturesque coastlines or indulging in thrilling water sports. However, as boats age, they may start to show signs of wear and tear. Whether it's faded paint, damaged fiberglass, or outdated interiors, these issues can dampen the overall boating experience. But fret not! If you're in Delano, MN, Anchor Marine Repair is here to breathe new life into your beloved vessel through their top-notch boat restoration services.
Restoring Beauty And Elegance To Your Boat
With their years of experience in the marine industry, Anchor Marine Repair has mastered the art of boat restoration. Their team of skilled technicians is well-versed in all aspects of boat renovation, ensuring your boat not only looks stunning but also performs at its best. From repairing dents and scratches to refinishing and repainting, they can restore your boat's exterior to its original glory. You'll be amazed at how a fresh coat of paint, or a sleek new gel coat can revitalize your boat's appearance.
Structural Boat Repairs
Boats face various structural challenges due to prolonged exposure to water and weather conditions. Anchor Marine Repair understands the importance of maintaining a sturdy and safe vessel. Their team conducts thorough inspections to identify any structural damage, such as cracks or delamination in fiberglass hulls. By employing state-of-the-art techniques and using high-quality materials, they ensure that your boat's structural integrity is fully restored, providing you with peace of mind during your future water adventures.
Interior refurbishment: A boat's interior plays a significant role in enhancing your boating experience. Whether you want to update outdated upholstery, repair damaged seating, or modernize your cabin, Anchor Marine Repair's boat restoration services cover it all. Their skilled craftsmen pay meticulous attention to detail, ensuring that every inch of your boat's interior is transformed into a comfortable and stylish space that reflects your personal taste.
Enhancing performance and functionality: Beyond aesthetics, Anchor Marine Repair also focuses on improving your boat's performance and functionality. Their technicians are proficient in repairing or upgrading various systems, including electrical, plumbing, and navigation equipment. By investing in their boat restoration services, you can expect your boat to operate smoothly and efficiently, providing you with a seamless boating experience.
Professional Boat Restoration Services
If your boat has seen better days, don't let it gather dust in your garage or marina. Anchor Marine Repair in Delano, MN, is your go-to destination for professional boat restoration services. From the exterior's beauty to the interior's functionality, their expert team will revitalize your vessel, ensuring it looks and performs at its best. Get ready to set sail with renewed confidence, knowing that your boat is in the capable hands of Anchor Marine Repair. Contact them today to discuss your boat restoration needs and embark on a journey of transformation and rejuvenation.