MN Boat Maintenance | Boat Storage & Winterizing
If you are a boat owner and have not done so already, now is the time to winterize your boat and to get it into boat storage. Some boaters prefer the no-hassle method of boat storage, and even hire a professional Minnesota Boat Repair Shop to haul their their boat out of the water for the season and take it directly to their shop to winterize it before it is stored. In the meantime, here are a few suggestions can be of great help to you when winterizing and boat storage times comes rolling along as it does every year.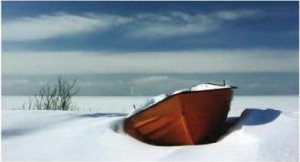 Tips For Maintaining Your Boat
Tip #1 Hull
Scrape off any barnacles or crusted marine growth.
Scrub hull thoroughly to remove marine growth and scum.
Inspect the underwater gear and propellers for excessive wear or damage.
Remove the hull drain plug.
Tip #2 Deck
Wash the deck, superstructure and cockpit.
Clean all deck hardware (i.e. cleats, rails, instruments, etc.) and apply a coat of metal polish or wax.
Clean the indoor/outdoor carpet.
Tip #3 Engine
IMPORTANT! Consult your engine manual for specific instructions covering winterization of the engine. Your dealer is qualified to perform engine winterization. Do not attempt to winterize the engine yourself without the proper knowledge and equipment.
Tip #4 Fuel System
Fill the fuel tank completely, or empty completely. Either method will minimize condensation. You may want to add a gasoline stabilizer solution to the fuel if the tank is to remain full.
Follow the product manufacturer's recommended procedure.
Tip #5 Battery
Remove battery, check water level, and store away from freezing temperatures.
WARNING! To prevent personal injury, wear goggles, rubber gloves, and protective apron when working with the battery. Battery electrolyte can cause severe eye damage and burns to the skin.
Tip #6 Livewell
Remove the drain plug or stand pipe from the drain in the livewell.
It is important to remove the water remaining in the hoses and pumps. Use a compressed air hose on all fittings and drain holes to remove all remaining water.
Tip #7 Washdown Pumps
Disconnect suction hose from water supply(fresh/sea water) or if water supply is taken from a tank, drain water storage tank.
Open all spray nozzles/taps.
Run the pump until all remaining water is expelled.
Disconnect inlet and outlet tubes.
Run the pump briefly to confirm that water has been expelled.
Never start a frozen pump. Even if it is drained it may contain a small amount of water that could lock the rotor. Make sure fittings are securely connected when returned to service.
Tip #8 Interior Cleaning
Scrub all interior surfaces.
Be sure to remove everything that can hold moisture and cause mildew.
Personal Flotation Devices (PFD's) and other safety equipment must be cleaned and dried. If left on board, place them where air can circulate around them.
Clean thoroughly and dry the bilge area. Remove all rags, sponges, or other cleaning materials from the bilge area.
Allow the interior to completely air out for a few days.
If you store your boat outside, we recommend that you do not store it with the canvas and bow set on. Cover with a storage cover, tarp, or plastic-especially if you live in an area of heavy snow. Whatever material you use for a cover, be sure the boat is properly ventilated.
After cleaning, make sure everything is thoroughly dry and air can circulate freely throughout the inside of your boat.
Remember that these tips can help you extend the life of your boat, and keep it looking like new for years of worry free enjoyment!
Source: Lund Boats