Have You Had Your Free Vessel Safety Check This Year?
Have you had your free Vessel Safety Check?  Vessel Safety Checks are generally performed on recreational boats under 65 feet. Vessel Safety Check requirements parallel federal and individual state regulations regarding equipment and safety conditions of the vessel. A VSC is not a law enforcement action. No official report is made to any law enforcement authority.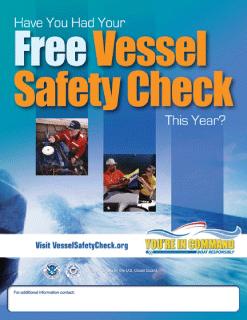 A Vessel Safety Check is performed only with the consent of the owner or operator, who must be present at the time of the examination. A Vessel Safety Check does not circumvent the right of any federal, state or local law enforcement officer to verify the presence and condition of safety equipment.
A Vessel Safety Check (VSC) is performed at your boat − ranging in locations from boat to your driveway. A vessel safety check usually takes 15 to 30 minutes, depending upon the size of your boat.
What's In it For Me?
Vessels passing safety checks are awarded a U.S. Coast Guard / Auxiliary Decal that informs:
Coast Guard / Auxiliary
Harbor Patrol
Sheriff's & Police
Other boating law-enforcement & safety agency's
that your boat was in full compliance with all Federal and State boating laws during a safety check for that year.  Best of all every Vessel Safety Check is 100% Free of charge!
What if I Don't Pass?
If your boat does not pass, no citation is issued at that time. Instead, you are provided a written report in how to correct any discrepancies.
Why Receive a Vessel Safety Check?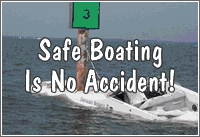 Safety!  The peace of mind that your boat meets federal safety standards and that in an emergency you will have the necessary equipment to save lives and summon help.  Additionally, you will avoid substantial fines should you ever be boarded by the U.S. Coast Guard or other law enforcement and found to be in violation.
In many cases boating insurance agencies offer discounts for vessels which undergo a Vessel Safety Check every year. All decals and safety checks are void December 31st of year they are inspected, they are also void should the operator /owner fail to maintain the vessels equipment or the vessel itself to the standard at the time of the safety check.
What Type of Items Are Checked?
Life Jackets
Registration and numbering
Navigation lights
Ventilation
Fire extinguishers
Distress signals (flares, horn, etc.)
Battery cover and connections
All of these items are currently required by state and federal laws and, if missing or non-operating, can result in a citation if your vessel is inspected by the Coast Guard.
Are you ready to get started with on your path to safer boating? Enter your zip code in the form below, and click enter. You will get a list of vessel examiners in your area within the specified mile distance.
Find an Examiner
Even Experienced Boaters Need A Vessel Safety Check!
If you think your boat is OK, when is the last time you took the time to inspect all the items required. Let an authorized inspector do it on your boat and be sure you and your passengers are safe on the water.
For your own safety and the safety of others, it is important to ensure the boat's continued safe operation through proper maintenance and repair. We suggest you develop a routine maintenance plan to assure that they remain in first-rate condition and continue to operate properly.   The cost of repairing a boat that has been underwater, even briefly, is usually about 40% of its value.
Besides having to pay the deductible, the skipper typically loses the use of the boat for several weeks while it is being repaired. The best defense against a dockside sinking?
Visit your boat. And, at least twice a season, inspect any fittings above or below the waterline that could be letting water into the boat. All too often, skippers rely on bilge pumps to bail them out when they can't visit their boats. The pump fails and the boat sink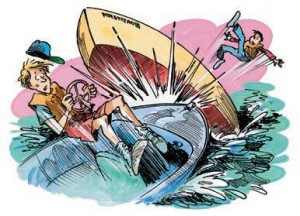 s.
In spite of your best efforts, accidents do happen and when they do, you want the assurance that your boat will be restored to its original beauty.  Number One in storm and collision damage—we work with your insurance company to bring your boat to better then per-accident condition.
If your boat is important to you, contact a reputable Minnesota boat repair company that has experience in boat trailer repair, collision, structural, and storm damaged boats.