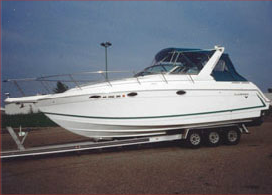 There's something that says "you've made it" when you are cruising the waters on a yacht. Yachts are a thing of beauty and should be treated as such. So, what happens when there is yacht damage? It can be heartbreaking ,or it can be just a minor setback. What makes the difference? Anchor Marine Repair! Serving in and around Minneapolis, MN, we handle yacht repair, yacht damage, and even yacht refurbishing. If your yacht needs work, Anchor Marine Repair can fix the damage and get your baby back on the water in no time!
Yacht Repair
For some reason, when you throw the word "yacht" out there, people assume that it is a gigantic boat that is only meant for high-end rappers and people on Forbes list. While there are many gigantic yachts out on the water and even some rappers, we have experience in yachts of all shapes and sizes. Our state-of-the-art facility has over 10,000 square feet of working space and we can accommodate boats up to 38' in length. Our skilled technicians are experts in yacht repair and only use the finest tools, equipment, and repair techniques to quickly repair your yacht damage. Additionally, our parts and product suppliers have known us for years. They prioritize our partnership so that we can insure that our customers will get the parts we need quickly for yacht repair and yacht refurbishing.
Yacht Refurbishing
If you've owned your yacht for a while, it may be in need of some updating. Yacht refurbishing is a great way to take your old yacht and make it look brand new again. Whether you are sprucing some small things up or redoing everything down to structural issues, we can help with your yacht refurbishing!
Below is a list of Yacht Repair and Yacht Refurbishing Services we offer:
Topsides Painting & Refinishing Services
Hull Maintenance, Bottom Antifouling Painting
Gel Coat Restoration, Paint and Gel Coat Touch-ups and Repairs
Fiberglass and Aluminum Repair and Alterations
Teak Deck Refitting and Carpentry Services
Wood Floor Repair and Replacement
Interior Design and Decorating
Yacht Maintenance
If you live of Minneapolis, MN and your yacht damage needs to be repaired, call Anchor Marine Repair and we will gladly pickup and deliver your yacht for free. Additionally, Anchor Marine Repair accepts and will work with your insurance to get you the best deals. For more information, please call us today at (763) 972-3540 or send us an email at service@anchormarinerepair.com.